How to Modernize Technology in Higher Education
Thanks to the hard work of faculty and the dedication of students, college campuses are hotbeds for innovation and discovery. The internet, antibiotics, the Richter scale, and Google's algorithm are just a handful of the innovations that have been created on university soil. But, when it comes to technology's role in supporting innovative teaching and learning practices in higher ed, U.S. institutions face significant barriers.
While education technology has grown as an industry, its acceleration isn't up-to-speed with other sectors, such as business and health care. It's easier for college students and their parents to buy furniture online, or even a car, than it is to select and pay for course registrations online. Current campus technology doesn't match the expectations or needs of higher-ed consumers.
Yes, digital platforms are present on campus. But, most of these solutions aren't built with the student experience in mind. To match the features of modern platforms such as Facebook and Uber, educational technology must prioritize engagement and the user experience.
To drive change on campus, we need to reflect on the current state of educational technology in higher education, and discuss the importance of bringing it up to par with technology in other industries, before we fall too far behind.
The challenges of an evolving campus
While we see significant improvements in teaching practices, largely due to demand for online learning experiences, and major renovations to campus environments to support student use of digital tools, it's important to recognize that challenges still exist.
The 2019 EDUCAUSE Horizon Report notes that advancing digital equity and rethinking the practice of teaching are two complex challenges for which solutions remain elusive.
Learning opportunities have diversified, and happen more and more outside of the traditional two- and four-year campus experience. The transformation from fully face-to-face to hybrid or fully online learning has introduced a critical need to ensure that students are receiving the same opportunities for engagement and access to campus resources, no matter their location. Students on campus make use of modern libraries that resemble coffee shops and can use walk-in services for financial aid or academic counseling. But what about students who spend little, if any, time on campus? Many universities have attempted to bridge these gaps using technology.
For online and remote learners, the university experience is almost exclusively through digital learning platforms, such as your typical learning management system (LMS), which simply aren't comparable to current engagement platforms, such as Facebook and Instagram. Rather, they are often viewed as information storage and dissemination systems, sometimes used as a content management system more than a true learning environment. Further, the LMS isn't connected to any of the other campus systems that provide services to students, thus isn't a feasible solution to aid students with meaningful engagement with the broader network of university services and resources.
In an industry poised for growth, funding lags behind
Despite being projected to increase, education funding and spending lags behind other industries. A recent report from HolonIQ found that though education is a six trillion dollar industry, it's grossly under digitized, with less than three percent of funds being allocated to technology.
However, the same report found that a combination of technology advancements and projected venture capital investment indicates that education is poised for growth. With the total spend on digital projected to increase, and with the rapid evolution of digital tools, higher education is on the cusp of innovation, and colleges need to be prepared for it. How do we transform technology for education?
Accelerating technology's role on campus
As explained by author, speaker and adviser Geoffrey Moore, we're in the midst of transitioning from 'systems of record' to 'systems of engagement.' Systems of record focus on improving the effectiveness of the supply chain, with little regard for experience. Siloed departments have resulted in communication barriers between educators, leading to an overwhelming amount of digital platforms that have impeded student engagement. Higher ed offers an abundance of virtual courseware and online learning options, and has increased capacity via MOOCs and non-credit courses, but it hasn't tackled engagement, a key element of student success.
If instead we invest in solutions that aim to streamline the user experience and prioritize engagement, these barriers will be removed. Systems of engagement seek to improve the customer experience while reducing the time needed to conduct a transaction. Many of the tech giants, including Apple, Google, and Facebook, use this model. For example, Apple made it easy to discover new songs and then have them ready to go on your iPhone; Google made finding relevant information easier; and Facebook made it possible for people to connect with friends, family and colleagues on a single platform.
The edtech industry must adopt this model, too. In our mission to improve the student experience, we'll be able to impact change and drive engagement for students.
It's up to edtech companies to give colleges and universities tools that can help them adapt to changing needs and increase institutional success. And it's the responsibility of higher-ed decision-makers to incorporate these tools into their vision for modern education on campus.
—
This article also appears on eCampusNews
Latest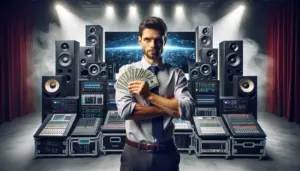 December 8, 2023
Mastering AV sales strategies in a global professional audio-visual (Pro AV) market, poised to reach $79.2 billion by 2028, requires much attention to detail. The surge in demand from corporate, government, and institutional sectors, driven by the need for enhanced productivity and efficient working environments, gives AV sales pros a lot of opportunity. In […]
Read More