Increasing Classroom Engagement Through Wireless Technology
Celebrating the leaders and experts that are powering education into the future, host JW Marshall sets out to ask the "right questions" in EdTech to understand the changes in policy and technology that will power our universities, tradeschools, and companies – and drive growth in upskilling certifications.
Looking at all aspects of the digital classroom includes the full spectrum of technology. Voices of eLearning captures these insights and brings them to listeners. The topic for this conversation covers the safe and effective return to the classroom with technology. Host JW Marshall welcomed David Lopez, Senior Manager, Strategic Alliances, North America ED at ScreenBeam.
Lopez started his career in the classroom. Then he trained teachers on how to use technology before joining ScreenBeam. He now works with districts across the country and globally to solve tech problems using ScreenBeam's wireless display technology.
Lopez shared what's he's heard regarding the return to classrooms. "They have safety in mind and creating a contactless as possible environment. Most are going to have a hybrid model, which requires integrations for remote interaction. Our guidance is to maximize those CARES dollars for technology that will last and be functional for the future."
Lopez and Marshall also discussed teacher adoption of technology and keeping it accessible. "Create a baseline that everyone is comfortable with, so you don't leave anyone behind. It has to be flexible," he noted.
Teachers are witnessing some silver linings with remote learning, including students interacting more in that setting than in the classroom. It's possible to take that new dynamic back to the in-person room with contactless technology.
"Classroom agility is teachers moving around the room with their wireless technology. This can increase engagement, and teachers aren't stuck in the front of the room. They are moving around, which means students have to focus in different areas," Lopez said.
School districts have to pay attention to investments to achieve this unplugged setting. Lopez cautioned, "Districts can make mistakes, spending money on digital displays and devices but then don't have the connection piece, so they're back at square room plugging in."

Latest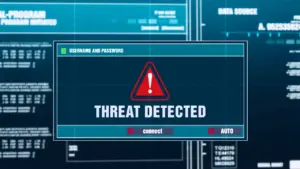 December 8, 2023
To keep up with the growing threats, cybersecurity in healthcare is a high-level priority. The recent ransomware attack on Ardent Health underscores a stark reality for the healthcare industry: cyber threats are a significant and ongoing challenge. Mike Saylor, the CEO of Blackswan Cybersecurity, LLC, sheds light on the complexities of cybersecurity in healthcare. […]
Read More