Innovations in Education: Will Automated Essay Evaluation Revolutionize Writing Instruction?
Joshua Wilson, Ph.D., is an Assistant Professor at the University of Delaware's School of Education. He recently spoke about his experience teaching and conducting research, which culminated in the development of a program to assist struggling writers and those who teach them.
Dr. Wilson's current duties at the university include conducting educational research, teaching classes to undergraduate and graduate students, and providing service to the school, university, and broader field. He got his feet wet in the classroom as a special education paraprofessional and then became a special education teacher for six years. After returning to school to earn his Ph.D., he took a professorship with University of Delaware, where he has been since 2014.
When asked about what he sees as important trends in education, he spoke of the challenges of teaching struggling writers, including giving appropriate and timely feedback in a manner that captures and keeps students' attention and motivates them toward sustained effort. Wilson explained that his research has focused on "the use of automated essay scoring and automated feedback technologies to support the teaching and learning of writing to students in elementary and middle-school settings, particularly students struggling to learn to write." With Wilson's platform, students write their essays directly into the computer, and they are offered feedback and revision opportunities, that in essence, form an ongoing writer-feedback loop.
Technology in the classroom has become the norm, and while sometimes controversial, it is generally accepted that integrated technology is here to stay, and the tide is turning in favor of advancement in these areas in education. Wilson has spent countless hours researching and sharing his findings as well as developing automated essay evaluation (AEE) technology in response to the urgent needs for an improved writer feedback system in the classroom. To those who worry about the role of the teacher and the obvious shortcomings of automated feedback, Wilson argues that the teacher is still a guide in the process and his program in fact creates time for them to give individualized instruction regarding the issues flagged by the program.
As for the future of automated programs such as his, he explained, "I anticipate the increasing prevalence of AEE software in K-12 settings, particularly as schools move more and more towards a 1:1 laptop environment. Teachers will be looking for ways to support their students learning to write—writing is essential for success in the 21st century and is now part of most states' large-scale accountability assessments, so the pressure is on to raise writing achievement."
To learn more, visit University of Delaware online or Peg Writing today!
Latest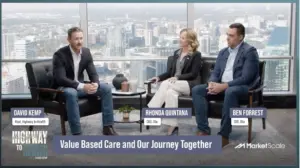 December 7, 2023
As of recent times, the healthcare industry has been progressively shifting towards value-based care, a model that emphasizes patient outcomes over the quantity of services delivered. This transition represents a significant shift that promises to enhance patient experiences and outcomes while controlling healthcare costs. With a growing emphasis on this approach, especially over the […]
Read More