Introducing Lukas Czinger: Changing the Game Before 30!

Getting completely DisruptED can change the future as we know it!
For those of you who have followed our DisruptED: Advanced Manufacturing edition, one of our most impactful stories demonstrated the jaw-dropping ways that a company is changing the game and amped up additive manufacturing, redefining what's possible NOW in an Industry 4.0 world completely Disrupted by technology and globalization.
Kevin Czinger, CEO and co-founder of Divergent 3D/Czinger Vehicles shared how they are changing the future of automotive manufacturing as we know it.  But this is by no means a single-handed endeavor. Kevin benefited from a talented team of scientists and engineers. One of the forces behind this effort is Lukas Czinger, his 28-year-old son who joined Kevin to create this epic American Family Car Company.
As our series rolls out, we are going to take you behind the scenes of an incredible story of human endeavor.  Lucas Czinger began his career in investment banking after graduating from Yale.  A few years in, he decided to approach his dad about working together to create a world-changing approach to automotive and aerospace manufacturing.
We are fortunate at DisruptED to host Lukas Czinger over the next series of episodes to share some of the behind-the-scenes story of how a father-son team began changing the game and working on their American dream together.
We begin with this first video of Kevin and Lukas working together as their dream car scene emerges.  In subsequent episodes, you'll get a ring side seat listening in on Lukas, and his vision for shaping this future-facing company.  Be prepared to be inspired!
Latest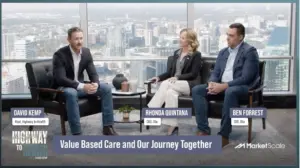 December 7, 2023
As of recent times, the healthcare industry has been progressively shifting towards value-based care, a model that emphasizes patient outcomes over the quantity of services delivered. This transition represents a significant shift that promises to enhance patient experiences and outcomes while controlling healthcare costs. With a growing emphasis on this approach, especially over the […]
Read More