Is Higher Ed Support enough for Skilled Trades Education?
Higher education enrollment numbers dipped in the spring semester of 2021, particularly at public, two-year institutions, which saw enrollment drop by 9.5%.
That could be concerning for the skilled trades industry, which needs both labor and support for that labor. Innovation might be necessary to help skilled trade education keep pace with the needs of industries like HVAC, plumbing, electrical and more.
To dig deeper into this topic, Voice of B2B Daniel Litwin sat down with Doug Donovan, the Founder and CEO of Interplay Learning, and Austin, Texas-based provider of online and virtual reality training for careers across those industries.
There are many factors at play, from the cost and accessibility of higher education, a significant portion of non-degree workers left without jobs in the wake of COVID-19, a trend toward unionization in many industries, and more, and the duo broke it all down on this episode of MarketScale TV.
"There are plenty of two-year institutions, particularly, that are geographically well-positioned [and] have great employer relationships and great industry relationships," Donovan said. "That being said, I think the bigger opportunity for the industry is doing more 'build-your-own workforce.'"
Sophisticated, internal training programs, even as higher education institutions try to cut program times and teach uber-relevant skills, could be a better option for many organizations looking to close the skilled labor gap more quickly.
Latest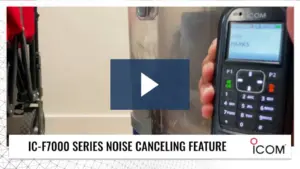 September 27, 2023
In this brief product demonstration video, ICom's IC-F7000 Series receives a mic test of its noise-canceling feature. Through the two demonstrations it is clear the IC-F7000 removes loud ambient noise for clear two-way communication.
Read More