Is My School a Better Place Because I Lead It?
Am I, or can I be the leader my people need? This is a serious question every leader needs to pose to themselves and be able to answer with the utmost humility. There are different definitions of leadership, which can be subjective, but two quite resonate: Adeoye Mayowa defines leadership as the ability to evaluate and/or forecast a long-term plan or policy and influence their followers toward the achievement of the said strategy. Charles Handy (1992) also describes a leader as someone who shapes and shares a vision that gives direction to the work of others. This is an interesting and extensive topic of discussion, but it was broken down by a professional on today's podcast of Change Starts Here.
Podcast host, Dustin Odham, brought on Principal Kafele, an author and transformational school leader, and a man so deeply ingrained in his purpose of leadership, to talk about how to be a transformational leader. He also spoke about his habit of discipline and how this can influence people and help him become the best version of himself.  Kafele also explained how we can transfer transformational and influential leadership to our schools and kids to help them become the best version of themselves.
"The struggle for the liberation of the minds of our children is worth dying for," Kafele said.
Odham and Kafele also discussed…
How to create a learning revolution
How to get over speed bumps people put in front of themselves
Leadership advice on how to get people on board and build relationships
"The children have to be able to see themselves in the learning if it's going to be relevant, if they are going to be able to embrace it, claim it, take ownership of it, and take it beyond the walls of the school," Kafele said. People only relate to what is in their lives (what is relevant to them); they relate to what they see themselves in.
"Can your teachers say they have grown exponentially because of the teachings and guidance they received from you?" How are you utilizing the human capital in your school? "Are you building people and nurturing relationships or stepping on people?" Kafele rhetorically asked, "Be brutally honest with yourself about the question, 'Is my school a better place because I lead it?', and don't let your ego answer."
Always remember, it's never about you. "You can't be egocentric and think it's all about you—it's all about the people you lead; being a servant (servant leadership) is all that matters."
Principal Kafele has been a highly regarded urban public school educator in New Jersey for over twenty years. He distinguished himself in the classroom and as a school leader. He is also the author of seven books, including his national best-sellers, "Motivating Black Males to Achieve in School and in Life", "Closing the Attitude Gap", and his recently released title, "The Principal 50: Critical Leadership Questions for Inspiring Schoolwide Excellence". Kafele is the recipient of over one hundred educational, professional, and community awards, which include the National Alliance of Black School Educators Hall of Fame Award, the Milken National Educator Award, the New Jersey Education Association Award for Excellence, and the City of Dickinson, Texas, proclaiming February 8, 1998, as Baruti Kafele Day.
Latest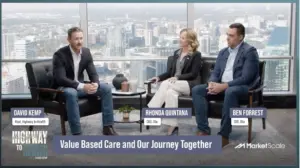 December 7, 2023
As of recent times, the healthcare industry has been progressively shifting towards value-based care, a model that emphasizes patient outcomes over the quantity of services delivered. This transition represents a significant shift that promises to enhance patient experiences and outcomes while controlling healthcare costs. With a growing emphasis on this approach, especially over the […]
Read More