Online Learning Minute: How to Leverage Current Educational Content
On this episode of MarketScale's Online Learning Minute with host Brian Runo, Runo highlights best practices for adapting and leveraging current content in a push toward online learning.
Though building out robust and thorough courses with plenty of online-friendly and tailored content is ideal, these courses can integrate training materials, handouts, and more that have already been developed.
Essentially, it boils down to this – having content in a course, of any kind, is better than nothing at all.
To effectively utilize previously created content, Runo said breaking down that content into small, bite-sized pieces is critical.
Latest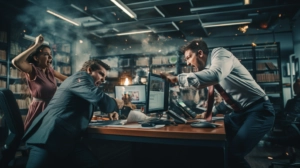 September 22, 2023
The kind of news that is delivered everyday serves as a grim reminder of the escalating violence across the U.S. Evidently, the need for proactive measures to ensure safety has never been more pressing. Such violence is not limited to any particular locale. It's actually permeating in so many different areas once considered […]
Read More