Returning Safely: Navigating School Safety and Emergencies
Schools will be back and mostly open for in-person learning in a few weeks. As students return, the importance of navigating school safety and dealing with emergencies remains paramount. So, how can schools be prepared?
Offering his expert perspective, Frank Kitzerow, Retired Chief of Police and District Security for Palm Beach County School District, spoke with School Safety Today host Shelby Skrhak. Kitzerow had a 40-year career in law enforcement.
"In looking at the safety aspect, there are lots of questions. One thing I learned was to pay attention to the community, because schools are a microcosm of that," Kitzerow said.
While leading the Palm Beach County School District, Kitzerow established a school safety ecosystem. "It's about staying left of the X, with X being a catastrophic event. It's a focus on prevention, intervention and diversion to stop a potential attack."
The planning part of school safety is essential, according to Kitzerow. "You want to have a robust toolbox to respond quickly if that day occurs. A plan for this involves communication, unified command and technology."
Developing a response plan requires lots of stakeholders. It's parents, students, teachers, administrators, law enforcement, fire and rescue, and more. Kitzerow established such a program involving all these parties focusing on effective communication, situational awareness, and technology tools.
"One of the heaviest lifts in communication is reunification, matching students to family, which is often a lot of people, and there's no room for error. Emergency management platforms support this," Kitzerow noted.
Such technology can also play a role in communicating with teachers during an incident.
Kitzerow also urged districts to practice the plans, not just create them. "Make sure everyone is well-versed. What you invest on the front end, you'll take on the back end."
Follow us on social media for the latest updates in B2B!
Twitter – @MarketScale
Facebook – facebook.com/marketscale
LinkedIn – linkedin.com/company/marketscale
Latest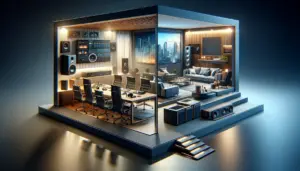 November 27, 2023
In this episode of "Pro AV Today," host Ben Thomas sits down with Audra Kinsley of Sonos Professional to unpack a topic that's causing (sound) waves in the audio industry: the fusion of commercial and residential audio systems. As we navigate through a landscape where consumer and professional audio worlds are increasingly intersecting, Sonos steps […]
Read More