Revaluing the Currency of "Power" Skills in K-12
In anticipation of the 2021 ASU+GSV Summit, which brings together stakeholders and leaders in education, The Age of Digital Learning is spotlighting some of the featured speakers. Host Kevin Hogan spoke with Jamie Candee, CEO of Edmentum, about her upcoming panel on "power skills" in K-12. Candee is also a board member of America Succeeds, a nonprofit that connects the business community to and education communities.
"America Succeeds does a lot of research, and the 'power' or durable skills. The objective is for students to be career-ready. The statistics prove that we need to be doing this throughout K-12," Candee said.
"Power skills can carry you throughout your career and life no matter your path." – Jamie Candee
The fundamental concern is that students are graduating from high school and not prepared. Candee noted that only about 30-40% of people pursue post-secondary education, and only around 60% complete their degree. So, what about the millions of others?
That's why the focus should be on these "power skills." They demonstrate what employers are asking for and may not be developed through academic learning. "The research looked at millions of jobs and the skills requested and determined 10 competencies that you can carry through your life like leadership and character," Candee explained.
Teaching these skills is possible through many channels. "It's about incorporating these skills through many types of learning so that when students leave high school. No matter the path they take, they'll have the durable skills necessary to be successful at navigating the chapters of their life and career," Candee shared.
Follow us on social media for the latest updates in B2B!
Twitter – @MarketScale
Facebook – facebook.com/marketscale
LinkedIn – linkedin.com/company/marketscale
Latest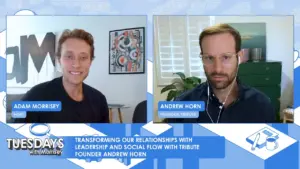 November 28, 2023
Can relationships be transformed through leadership and social flow? Navigating the intricate web of digital relationships can be a tricky proposition. Tuesdays with Morrisey's Adam Morrisey uncovers the transformative impact of emotional recognition in the workplace with Andrew Horn, the mastermind behind Tribute. This podcast edition unravels the story of a platform redefining how […]
Read More