Schools Face Once-in-a-Lifetime Opportunity to Accelerate Learning
Celebrating the leaders and experts that are powering education into the future, host JW Marshall sets out to ask the "right questions" in EdTech to understand the changes in policy and technology that will power our universities, tradeschools, and companies – and drive growth in upskilling certifications.
School districts across the country are receiving new COVID relief funding. How should they wisely invest the funds? Technology, infrastructure, and teacher training are three areas that former Michigan State Superintendent Tom Watkins believes should be a priority. Watkins joined Voices of eLearning to discuss this topic and his career.
Besides serving as state superintendent, Watkins also led the Detroit-Wayne Mental Health Authority. Now he's a global education and business consultant.
"I've had an eclectic career based upon a desire to make a difference for young people. I've always wanted to add value to their lives, and technology is an important tool to make this happen," Watkins said.
Technology delivers opportunity and agility, yet most school districts were woefully unprepared to pivot during the pandemic. "Some districts excelled; others did not. Policymakers should look at what went right and wrong for future preparations."
Public schools will receive $130 billion in COVID relief to deal with learning loss and level up. "They should invest in a way for the future, not remediation and plugging holes. Technology can accelerate learning. Educators should pull up anchors from the past and throw them out and move toward project-based learning," Watkins shared.
Watkins is a proponent of project-based learning because it prepares students for the real world and being problem solvers. Technology makes it scalable and optimal. He shared an example of this wherein a local mayor is challenging kids with project-based learning. "They'll be asked to look at problems in their community from their level and work to come up with answers. They'll then present them to the city council with the opportunity that some ideas could be implemented and funded."


Latest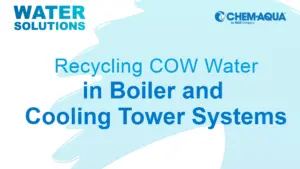 December 7, 2023
For the latest episode of ChemAqua's Water Solutions podcast, the focus was on an innovative approach to water conservation in the dairy industry. The show examined the potential of reusing Condensate of Whey (COW) water, a byproduct of dairy processing, and highlighted some of its economic and environmental benefits. Hosted by Dani Waddell, the informative […]
Read More