Why Schools Need to Invest to Protect Their Student's Data Privacy
Engaging and personalized learning environments are easier to create than ever before thanks to technology. But that doesn't mean devices can be purchased, implemented, and then ignored. When it comes to online data, hackers don't hit the brakes when a target is a minor. Student data is very much in their crosshairs, which is why schools bear a big responsibility to protect the data privacy of everyone—including students—who use their networks.
The issue isn't just one for wireless networks used by students to do research and share work, however. It also extends to the many IoT devices currently being deployed by school districts. Internet of Things devices can make schools safer, improve student engagement and save schools and school districts significant money, according to a 2017 survey of K–12 professionals by CDW.[1] But they can also be hacked for data.
Here are just a few of the considerations school districts need to keep in mind to be sure they protect student data and sensitive IoT devices:
staying current with federal and state privacy laws
meeting the expectations of their parents and other community stakeholders
building partnerships with a variety of vendors
managing complex networks capable of supporting hundreds of student devices
translating their security efforts into clear and comprehensible policies and guidance[2]
"School districts are rapidly adopting new technologies for the classroom, so it's important that they invest in resources that ensure student data is private and protected," says Jim Onstad, President & Co-Founder, Education Framework Inc. "Automated tools like EdPrivacy make it easy. From managing the assessment, inventory and maintenance tasks, to reducing redundancies, automation streamlines the privacy management process and provides transparency and accountability throughout."
Experts are recommending that school districts budget for a system to secure the devices themselves as well as the data that is being generated, and work with proven, experienced security experts when setting up these solutions. It won't come cheap. Paying for security monitoring and analytics, data protection, identity and access management, and encryption will all contribute to what the research firm Gartner predicts could be $3.1 billion in IoT security spending by 2021.[3]
[1] https://edtechmagazine.com/k12/article/2018/05/schools-must-invest-to-protect-iot-devices
[2] https://thejournal.com/articles/2018/04/26/student-data-privacy-building-trust-through-collaboration.aspx
[3] https://edtechmagazine.com/k12/article/2018/05/schools-must-invest-to-protect-iot-devices
Latest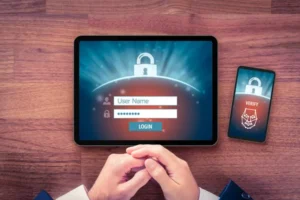 October 3, 2022
KEY POINTS: KEY POINTS: Attacks exploiting multifactor authentication are on the rise. Using MFA fatigue, attackers successfully breached Uber and Okta. Security measures like
Read more