Should Online Learning Replicate the Classroom Experience?
Has online learning really changed in the last decade? Susan Manning and Kevin Johnson, co-authors of Online Learning for Dummies, released the second edition of the book, 10 years after the first. They shared their perspectives on what's changed, what's stayed the same, and what the future may bring.
Manning said, "The second edition didn't change much from the first. We were ahead of the curve a bit. There have been shifts and greater adoption, but the way people learn online is much the same."
Johnson uses the book for two audiences in his role as Director of eLearning for Seattle Central College. "The book is for students and faculty. For students, it can be a source to ask questions about an online program and understand expectations. For faculty, it can inform the design of courses."
Manning and Johnson both agree that the biggest challenge educators face is taking an in-person class and redesigning it for virtual learning.
Johnson added, "The desire to replicate face to face teaching online is the biggest mistake we see. In student forums where I've participated, they say they aren't afraid of the work; they just want to know what the work is."
The new edition of the book does cover adult learners, a subset that's growing due to the pandemic. Professionals that once took classes to upskill or reskill are now doing this online. They both say the book can be good prep to understand what that new world will look like.
The future of online learning is an acceleration of change, adjustment, and rethinking norms. Even post-COVID, it's not likely to go away. According to Manning, the key to getting it right is "breaking up learning into small, manageable pieces that are organized."
Be sure to check out the new book, now available.

Latest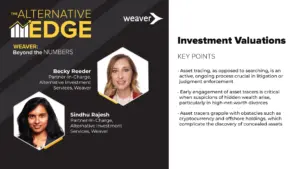 December 4, 2023
In this episode of The Alternative Edge, a Weaver: Beyond the Numbers Podcast, host Becky Reeder, an audit partner and co-leader of the alternative investments practice at Weaver, engages with Sindhu Rajesh, an Alternative Investment Services Partner with Weaver. They unpack the complexities of venture fund valuations, offering critical insights into industry dynamics and best […]
Read More