Taking Video Conferencing Next Level: Remote Possibilities
Zoom fatigue? It's a thing. Frank Weishaupt, CEO of OwlLabs, thinks he has an answer. On this episode of Remote Possibilities, he talks about the state of video conferencing in this world of remote working and learning. The pandemic has thrust the technology of video meetings into our faces. Listen how we can escape these daily squint-inducing reenactments of the Hollywood Squares for a better distance learning experience.
Each year, Owl Labs publishes the State of Video Conferencing report to share with business and IT leaders the collaboration challenges companies face most often, the preferred collaboration software and hardware tools to solve them, and how business and education can improve productivity overall.
96% of respondents agree that video conferencing is effective for improving the connectedness of remote team members, with full-time remote employees nearly twice as likely to feel strongly about this than those who work on-location. Most notably, the report uncovered that setting up and starting meetings are taking up respondents' dedicated meeting time. More than 50% of video conferencing users are wasting nearly 10 minutes per meeting on meeting setup, with 83% reporting that it takes more than 3 minutes to set up and start meetings.
OwlLabs' Meeting Owl product line is designed to solve this issue. It is driven by its own proprietary intelligence system. While sitting in the center of the table, it uses vision and voice recognition to automatically shift the camera to focus on whoever is speaking. This creates a fully immersive and equalized experience for those who can't be on site. The device sports a high-quality, 1080p 360° camera that makes you feel like you're in the room – even if you're not.
Both products are compatible with all popular video conferencing platforms (i.e. Zoom, Google Meet, Skype for Business, Bluejeans, etc.) and accessible to nearly all businesses at a sub $1,000/device price point. Owl Labs' products are used by 35,000+ companies globally across a wide array of categories; including the likes of Home Depot, SoulCycle, Ro, Ogilvy, Andela and RXBAR.
Weishaupt previously served as SVP of Sales at CarGurus and played an instrumental role in the company's growth, leading to a successful IPO in October 2017. Prior to joining CarGurus, Weishaupt served as Chief Operating Officer at Jumptap, leading to an acquisition by Millennial Media. He also served in executive roles at Yahoo! and Criteo, which had a successful IPO in 2013.


Latest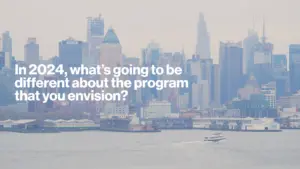 December 1, 2023
In the dynamic telecommunications landscape, Verizon's Partner Network continues to evolve, adapting to new trends and opportunities. For another segment featuring Mark Tina, VP of Indirect Channel Distribution and Channel Chief at Verizon Business Group, he explores exactly what types of significant changes and advancements the Verizon Partner Network will see in 2024. In this […]
Read More