What to Charge Higher Ed Next Fall?
When universities began to shut down half way through the spring semester, edtech companies rushed in to support the transition to remote learning, often free of charge. As administrators begin to make the hard decisions about the fall semester, those same operations need to devise a revenue stream that will work and that cash-strapped institutions can afford.
One tactic seems to be scaling subscription models. Canvas GFX, Inc this month announced the availability of Canvas Unlimited for Universities, an all-inclusive subscription plan for the education sector. The new plan was launched to provide high-value support to university students and faculty forced to work remotely due to the COVID-19 pandemic. 
Patricia Hume, CEO at Canvas, commented: "Despite the uncertainty we must all now accept, we believe it is crucial that we strive to maintain normality wherever it is feasible and safe to do so. This is particularly important in the education sector, where the young people who will lead us to a brighter future need to retain access to the essential tools of learning."
Hume continued: "Our new Canvas Unlimited offer for the education sector means that, for the same cost as 40 Canvas X licenses, universities can get Canvas for 400, 4,000 or even 40,000 users. We believe the potential of young people is unlimited and that's why we've made Canvas Unlimited, too."
Other companies are keeping a wait and see approach when it comes to how long they keep their premium products free. Online course provider Coursera currently provides every university in the world impacted by COVID-19 with free access to our course catalogue through Coursera for Campus. Universities can sign up to provide their enrolled students with access to more than 3,800 courses and 400 Specializations from Coursera's university and industry partners. These institutions will have access until July 31, 2020, after which the company plans to provide month-to-month extensions depending on prevailing risk assessments. Students who enroll on or before July 31 will continue to have access until Sept. 30, 2020. Hopefully, when they are back on campus.
Latest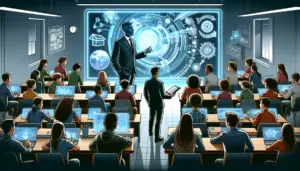 November 27, 2023
In an era where education stands at the crossroads of tradition and innovation, the potential value of thought leadership becomes the guiding star for progress. "Just Thinking" dives into this potential with host Kevin Dougherty and guest Evan Edwards, a Professional Learning Specialist at 806 Technologies who exemplifies the transformative impact of visionary guidance […]
Read More