Who is Responsible When a Child Commits an Act of School Violence?
Key Insights:
Parents potentially face criminal charges for their children's behavior.
Behavioral threat assessments are a valuable tool in creating safe schools.
Schools and parents need to work together to identify and help children in crisis.
School shootings have become increasingly common in the US. And after a brief reprieve from the horrifying nature of these events during the pandemic, they returned with the return of in-person learning. But now there is a new fear, will parents be held criminally accountable for their child's criminal behavior outside the home?
Adam Coughran, President, Safe Kids Inc. believes that "the answer by and large for many parents, is probably going to be no." He continues to note that most parents are doing everything they can to help their children when they are in crisis to help get them back to a good place. However, he also thinks that parents who "are a little bit more check-out, that are more dismissive, there is going to be some cause for concern. I think going forward we may see more parents charged for those that are not taking responsibility or essentially known or should have known."
What has caused this concern? When did parents have to begin worrying about being accountable for their children's actions? The answer – the Nov. 30th, 2021, shooting at Oxford HS located approximately 30 miles outside Detroit, MI. On this tragic day, Ethan Crumbly, a 15-year-old student, brought a semi-automatic gun to his school and opened fire. Eleven people were shot. Four of them died (The New York Times).
This part of the tragedy is one that Americans have sadly become too familiar with. It's what happened after that has changed the conversation around school safety and assigning responsibility. In addition to the criminal charges brought against Ethan Crumbly, his parents were also charged with involuntary manslaughter (The New York Times). Additionally, a lawsuit was filed against seven employees of the school district claiming that the incident was entirely preventable due to knowledge of social media postings and threatening behavior that was not acted upon  (Reuters).
So, the question becomes, "What is not only the parent's responsibility but also the school's responsibility to bring the information to the parents," Coughran noted. He believes that schools need to be very upfront with good policies and checklists and procedures. There should be no ambiguity in communicating issues with a child to their parents without trying to downplay concerning behaviors and issues.
Schools need to convey the urgency of an issue, "we've conducted a behavioral criminal threat assessment. We believe your child is in crisis because of x, y, and z reasons. And here's the action plan we propose going forward with you in order to help get your child the help or resources that they need." This creates a roadmap of responsibility that include what can be done at school and at home to offer around the clock help
"I think part of it for schools and districts but also for parents and the community is understanding the severity and importance of behavioral threat assessments and of these early warning signs. The United States Secret Service and the Department of Homeland Security and the FBI  have been studying behaviors really since dating back all the way to Columbine. And there's been a number of behaviors that tend to lead towards not only the student or child being in crisis but also almost directly lead to a targeted act of violence – an active shooting or some sort of other very violent event," explained Coughran.
Latest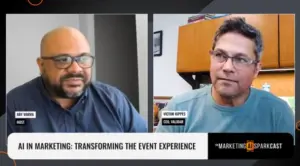 November 28, 2023
AI has been gradually changing the landscape of event technology at a very rapid pace. In an industry where staying ahead of technological trends is crucial, AI's impact on marketing and event management has become increasingly significant. As witnessed in the rise of account-based marketing and enhanced personalization, AI is effectively reshaping how events […]
Read More