Why College Curriculum Should Include Data Center Education
More people are retiring from data centers than are joining the profession. Research suggests that about 33 percent of data center professionals in the US expect to retire by 2025, and as previously noted, the pool of candidates to replace them is small and shrinking by the day.
Our typical approach as an industry–relying on expedient solutions like upskilling employees or poaching from competitors– to filling open positions has long ignored the glaring fact that we're simply not doing a good job of promoting our industry and the careers waiting inside the doors of our data centers.
But in every crisis, there's opportunity. The growing talent shortage amid exploding growth in data center demand is an opportune time to reimagine our entire approach to talent development and acquisition, and how those strategies can align with broader goals to create high-value benefits that extend beyond a data center's walls.
I've often made the case for incorporating data center education in college-level curriculum as a long-term, "renewable" solution to closing the talent gap and putting the industry on more solid footing for the future. My belief is that targeting these educational programs in regions with a high concentration of data centers, tech-related businesses, and potential workforce candidates is the ideal approach to creating widespread benefit for the industry, as well as for students, workers, and the local communities that become part of the fabric.
Here's a look at the many benefits data center education could bring to everyone involved.
A new world of opportunity for students
Planning a career path when you're still young is a rite of passage and one of the joys of adolescence. It's also confusing and very difficult, regardless of your age, and especially true for those in underserved populations with limited access to traditional university and career paths.
These areas are often in close proximity to data center facilities, as well as both community colleges and local trade schools. Yet many of these students are unaware of career opportunities beyond what they hear about in school or see on TV. They may see military service as the surest, most direct career path option or target traditional work in skilled labor like electrical, plumbing, or other technical work. They may not have had the means or access to more robust career information or may be the first in their family on track for post-secondary education, generally leaving them to figure things out for themselves.
Introducing accessible and affordable–but comprehensive–data center operations education offers a completely new, lucrative, and sustainable career path they might not have known about. Even if their strengths aren't in math- or engineering-related disciplines, there are still plenty of other opportunities across different functions and departments within a data center operator's organization– all of which can be promoted through local co-op and internship opportunities to reach students earlier in their career development.
The benefit to students expands to the communities they live in, too. Many of these areas are severely underserved and underemployed, where demand for jobs outstrips available well-paying positions. Collaborating with local high schools, community colleges, and trade schools can dramatically reverse that trend over time by creating a well-defined, end-to-end career roadmap supported by easier access to requisite skills training.
Data center education is a way for professionals to build their personal brand
Students aren't the only ones who'd benefit from a stronger, purpose-built data center curriculum. Data center employees can also benefit from getting involved as instructors to boost their professional reputations and create future opportunities for paid speaking engagements, writing collaborations, or other career-boosting activities outside of their day jobs. Existing employees can also benefit by enrolling in these courses, as many of the learning opportunities on site are limited to on-the-job training rather than formal theoretical learning.
One key trend we should keep in mind is that 21st century professionals aren't planning to work for the same company for the entire 40-50 years of their working lives. The typical professional will work in multiple companies and have multiple titles over their career–as many as 12 changes, according to some sources. And as professionals increasingly become more like business entities themselves, individuals need to develop a personal brand they can use to attract opportunities over the coming years and decades.
Teaching data center curriculum presents a perfect opportunity to build that personal brand, elevate their profile, and unlock previously impossible professional development opportunities. Of course, the position itself may come with a stipend, but a savvy professional will find ways to make it pay off far beyond the pay they receive for their teaching services.
Renewable industry talent pipeline
For data centers, college-level programs don't just offer a way to give back to the community, or to help professionals build their careers. It's the most direct, strategic, and sustainable way of cultivating and curating a larger pool of candidates for infusing new talent into the industry as well as streamlining conventional retraining or up-skilling of existing employees.
Traditionally, data center employees who want to explore roles in other parts of data center operations or management are trained in-house, which requires dedicating time and resources to an activity that, frankly, is not a data center's core competency. It also takes the employee and a trainer away from his or her primary responsibilities.
Conversely, offering to reimburse or pay for them to attend an accredited training program at a local community college is a wiser investment of time, resources, and goodwill. Employees can take the courses during their personal time, freeing them to focus on their daily tasks while also offloading the curriculum development and teaching to a more appropriate resource — usually at a fraction of the cost of developing a customized in-house program and hiring trainers to teach it.
Combining continuing education opportunities outside of the workplace with a steady flow of new students from our high school and community college recruitment efforts is a sure-fire way of cultivating a diverse workforce purposely built and educated to support our industry as it grows.
A little less conversation, a little more action please
The data center industry has reached a crucial point in its existence. Our traditional philosophies about recruiting and talent development have repeatedly proven insufficient in the face of soaring demand for data center services.
I believe it's time to replace our outdated, myopic approach to sustaining our operations with a data center education program that's a natural, logical, and effective long-term solution to our impending talent crisis. But merely talking (or writing) about it isn't going to accomplish much.
As data center professionals, we're accustomed to taking a mission-critical mindset when it comes to our customers' operations. Now it's time to apply the same level of urgency, creativity, innovation, and initiative for our own.
Follow us on social media for the latest updates in B2B!
Twitter – @MarketScale
Facebook – facebook.com/marketscale
LinkedIn – linkedin.com/company/marketscale
Latest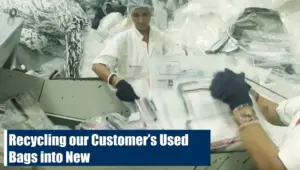 December 6, 2023
This video focuses on EcoLOK4, a groundbreaking product by CONTROLTEK that exemplifies innovation in sustainability. It highlights the process of transforming landfill waste into new deposit bags, with 90% of each bag's material being repurposed trash. This initiative not only reduces waste but also closes the sustainability loop, demonstrating CONTROLTEK's commitment to environmentally friendly […]
Read More