Why Training and Support Matter for an LMS
Celebrating the leaders and experts that are powering education into the future, host JW Marshall sets out to ask the "right questions" in EdTech to understand the changes in policy and technology that will power our universities, tradeschools, and companies – and drive growth in upskilling certifications.
In most cases, schools and companies that leverage eLearning look to a Learning Management System (LMS) as the foundation. Often, an LMS can be challenging to customize and optimize for better outcomes. That's where experts can change the game, which Voices of eLearning is tackling by welcoming the co-founders of eThink, Brian Carlson and Cheryl Patsavos. eThink is fully-managed eLearning solution that supports and augments the world's most used open-source LMS, Moodle.
Carlson and Patsavos started the company 13 years ago after working together as consultants for another EdTech company. "We experienced the needs of EdTech clients up close, which spurred the development of eThink," Patsavos said.
While the company has been in the online learning space for over a decade, things changed last year. "It was an incredibly interesting year, and there was a panic to quickly plan for fully going online, and we had a busy time supporting clients," Carlson noted.
The acceleration to adopt led to a five-fold increase in usage for their product. The surge wasn't just K-12 and higher ed but also corporate learning. This transformation to digital learning experiences exposed a big gap, and it wasn't the technology. Most instructors still don't feel comfortable delivering online learning.
eThink is prepared to fill those needs in the market. The company, along with Open LMS, joined together through an acquisition by Learning Technologies Group.
Patsavos described these possibilities. "We'll be able to deploy new services like content creation and be able to innovate for the betterment of the product and client service."

Latest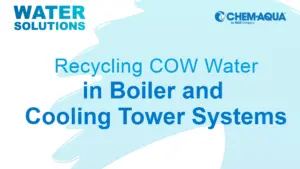 December 7, 2023
For the latest episode of ChemAqua's Water Solutions podcast, the focus was on an innovative approach to water conservation in the dairy industry. The show examined the potential of reusing Condensate of Whey (COW) water, a byproduct of dairy processing, and highlighted some of its economic and environmental benefits. Hosted by Dani Waddell, the informative […]
Read More