Why US EdTech Should Consider Going Global
Celebrating the leaders and experts that are powering education into the future, host JW Marshall sets out to ask the "right questions" in EdTech to understand the changes in policy and technology that will power our universities, tradeschools, and companies – and drive growth in upskilling certifications.
In a global economy, it's hard to find many industries that are stretching across borders. EdTech is no different, as the fundamentals of leveraging technology in the learning environment have become universal. But how do EdTech companies go global, and what challenges do they face? Global Expansion Strategy CEO Michael Spencer, a veteran in the EdTech space and technology expert, shares what the market looks like and how companies can expand.
In the international space, schools look to technology to improve outcomes. The adoption of it often depends on the type of school. "A and B schools are typically private and welcome technology. C and D schools are categorized as public and can be more price-sensitive," he said.
Companies looking to enter the international market often need different strategies depending on the type of school, but how difficult and expensive is it to establish a presence in other countries?
Spencer replied, "The way we've been doing it is to use in-country strategic channel partners. They are in tune with the local market and regulations and have the relationships. They present the technology to the school. These partners often take on the cost to localize the technology, as well."
Spencer spoke about the shift toward virtual and hybrid learning and adoption internationally versus in the U.S. "International schools have been relatively fluid in migrating from in-class instruction to blended. They've implemented programs without the trial and error I see in the U.S," he said.
Because many international schools already had a hybrid approach, it was an easier pivot. This means the market for global EdTech is healthy. The pandemic also forced some districts to reassess the programs they were using when it wasn't delivering outcomes.
"A 300,000 district had a mostly in-class curriculum for reading, writing, listening, and speaking English. Students weren't proficient with one program. Now we're deploying multiple ones to focus on all four areas of language," Spencer noted.

Latest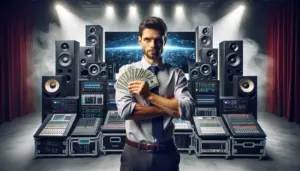 December 8, 2023
Mastering AV sales strategies in a global professional audio-visual (Pro AV) market, poised to reach $79.2 billion by 2028, requires much attention to detail. The surge in demand from corporate, government, and institutional sectors, driven by the need for enhanced productivity and efficient working environments, gives AV sales pros a lot of opportunity. In […]
Read More