2023 Oil Price Instability: Rystad, Goldmand Saches, JP Morgan Analysts Predict High Prices to Come

2023 oil price instability remains likely as compounding research from oil analysts points to pent-up demand, new waves of COVID-19, OPEC+ production cuts, and more are creating scenarios for higher oil prices in 2023.
Several factors are stacking to keep oil prices high next year. Some analysts have been countering this narrative in recent weeks, pointing to oil price drops after a resurgence of COVID-19 on the Chinese mainland depressing Chinese oil demand.
Rystad Energy, according to reporting from OilPrice.com, says China's zero-COVID policy and subsequent lockdowns shouldn't be people's main gauge for 2023 oil price instability; the independent research company predicts it will have a minor impact on short-term oil demand. While OPEC and the IEA have reduced their 2023 oil demand growth estimates due to the situation in China, Rystad believes the market panic on Monday was unwarranted.
Other predictions reinforce this analysis. Goldman Sachs has forecast $110 per barrel oil for next year but acknowledges that uncertainty still prevails. JP Morgan has revised its 2023 oil forecast down to $90 per barrel, still higher than recent prices hovering around $80 to $85 per barrel. citing the expectation that Russian production will normalize by mid-2023.
Tim Snyder, oil & gas analyst and economist for Matador Economics, a consultative macroeconomic strategy firm, breaks down his analysis and predictions for 2023 oil price instability and why he's in agreement that 2023 will likely see higher crude oil prices.
Tim's Thoughts
"Commodity markets crave stability to function at their most efficient levels. The more instability there is in a market, the more risk that there is added to the price of commodities. Many economists, me included, believe that we'll revisit 2022 levels in crude oil in the refined products as we head into 2023.
Here are three items that lead us to believe that this could possibly be true. First of all, Goldman Sachs Chief Economist said that he believes that there will be increasing geopolitical risks in 2023, more than what we're seeing currently in today's markets. Secondly, Bank of America chief economists believe that we should expect three full quarters of negative GDP in 2023 because of the way the market is trending right now from an inflation standpoint.
And number three, nothing has changed in the way the Biden administration is prosecuting its business to give us any hope that there be any significant change from the 2022 level. These are just a few of the growing concerns that we have from the economy moving into 2023."
Latest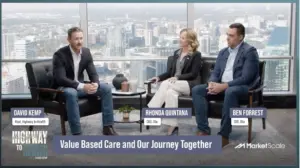 December 7, 2023
As of recent times, the healthcare industry has been progressively shifting towards value-based care, a model that emphasizes patient outcomes over the quantity of services delivered. This transition represents a significant shift that promises to enhance patient experiences and outcomes while controlling healthcare costs. With a growing emphasis on this approach, especially over the […]
Read More