Transformational Trends in Energy and Data
Speaker of the House Nancy Pelosi's recent visit to Taipei, Taiwan, sparked controversy when China issued warnings about consequences arising from her making the trip. What led to Speaker Pelosi's visit in the first place is at the heart of two transformational trends taking place today: energy and data. What's the connection? Half of the world's semiconductor manufacturing comes from the Taiwan Semiconductor Manufacturing Co (TSMC). And with Taiwan's proximity to China (100 miles off the coastline,) fears of a takeover by China resembling Russia's invasion of Ukraine put a significant portion of economic resources at risk.
"U.S. vulnerability to chip supply, that's the technology that processes data limits economic growth," Michael Davies, Analyst at Green Econometrics, said. "Because chips are embedded in everything from our appliances to data centers, not to mention PCs, AI, Smartphones, Crypto mining, and so forth."
Creating a precarious position with China brings other potential economic landmines, as China controls other energy resources, which would impact the situation further. "China is also the largest processor of Lithium, Nickel, and Cobalt, the primary metals comprising AV batteries," Davies said. "Control over chip and energy storage could limit EV adoption, and the controls over energy could further exacerbate the concerns around economic growth."
The global auto market knows how chip shortages can impact an industry. Automakers estimated chip shortages would cost their industry $210 billion in lost revenues in 2021, and they expect challenges to existing until 2023. But what about the U.S.? Can it make up for the shortfall? Domestic production of semiconductors stands at roughly 12 percent of the global output, down from 37% twenty years ago. Yet, U.S. demand for chips is 24 percent of global consumption, which is growing.
A new law could help boost domestic semiconductor chip production. President Biden signed The CHIPS and Science Act on August 9, 2022. This new law provides $10 billion for investments and tax credits for manufacturing semiconductors and related equipment. The legislation also provides $100 billion in spending for scientific research over the next five years. The bipartisan law hopes to make the United States more competitive with China and help lessen the reliance on semiconductors manufactured in Taiwan and other parts of the world.
How quickly can the U.S. expect a semiconductor turnaround? Shortly after the CHIPS and Science Act signing, semiconductor firm, Micron and mobile chip company Qualcomm announced new initiatives to jumpstart semiconductor production. Micron's planned investment of $40 billion in memory chip manufacturing estimates 40,000 new construction and manufacturing jobs and an increased U.S. market share of memory chip production over the next decade. Qualcomm is partnering with GlobalFoundries to increase semiconductor production in the U.S. by up to 50 percent over the next five years.
Semiconductor production appears to be trending in a positive long-term direction for the U.S., but elements needed for lithium-ion batteries may prove a trickier solution. China currently controls the processing of nearly 60% of the world's lithium, 35% of nickel, 65% of cobalt, and more than 85% of rare-earth elements, according to Abigail Wulf, director of the Center for Critical Minerals Strategy at Securing America's Future Energy. The U.S. must take steps to ramp supply chain and production efforts for a better position in the global battery market to avoid future crises.
Latest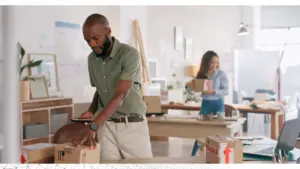 November 29, 2023
While the logistics industry often gravitates toward cutting-edge technology, Wesley Boyce, an Assistant Professor of Practice in Supply Chain Management and Analytics at the University of Nebraska-Lincoln, brings to light the enduring significance of radio communication. In a world enthralled by digital innovation, he argues that the simplicity of radios could be their greatest […]
Read More