AWEA 2019: What Wind Means to the Future of Energy
The American Wind Energy Association's 2019 Windpower Conference kicked off Monday at the George R. Brown Convention Center in Houston, Texas. The conference runs May 20-23 and brings together industry leaders from the wind and energy sectors.
As the wind sector has progressed, logistical problems have arisen in transporting the oversized wind energy equipment from manufacturing facilities to installation sites. Equipment, such as wind turbine blades, can be as long as 250-feet.
Transhield, Inc., maker of protective covers, is exhibiting at the conference. For better protection during transportation and storage, Transhield 3D scans wind equipment and creates a customized covers made from their advanced fabrics. The company's wind energy covers shrink to provide a snug fit for enhanced protection from dirt, dust, and other contaminants that can damage equipment during transportation and storage.
This display was one of hundreds of products on display that speaks to the burgeoning nature of this industry.
Photo courtesy of Josh Lambert
For the latest energy news, head to our industry page!
Latest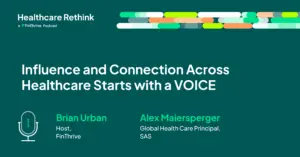 September 29, 2023
In the latest episode of the Healthcare Rethink podcast, presented by FinThrive, host Brian Urban sits down with Alex Maiersperger, the Global Principal Healthcare at SAS. Their conversation charts the role voice plays in influencing and connecting the healthcare industry. Maiersperger, who co-founded the Advancement League, shares his journey from being a healthcare optimist to […]
Read More