California's Record Heat Waves Drive Droughts to Match
Extreme temperatures have impacted the nation's power grid from both ends of the spectrum, with states like Texas experiencing both severe outages during an unprecedented freeze and drastic sags during the hot summer months.
In California, though, things have taken an even more disruptive turn.
The state recently shut down a major hydroelectric plant at Lake Oroville in the wake of a severe drought induced by record-breaking heat waves. The water level in the lake fell to essentially the minimum level for power production, necessitating the emergency action.
Now, the shutdown's impact could have even more widespread implications in the form of rolling blackouts and power inconsistency on an extreme scale. That's bad news for a state already reeling from the summer weather.
The state is asking residents to conserve as much water as possible and could lean on mass water recycling efforts, which reintroduce sewage water that's been through rigorous recycling procedures back into the water supply for specific counties, including Orange County.
As former California Governor Gray Davis said, the practice, which has been implemented for nearly a decade in parts of the state, "is going to be part of our new reality."
For continued updates on climate change and its impact across America and the globe, subscribe to the Homepage of B2B today.
Follow us on social media for the latest updates in B2B!
Twitter – @MarketScale
Facebook – facebook.com/marketscale
LinkedIn – linkedin.com/company/marketscale
Latest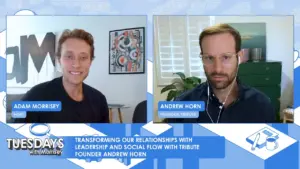 November 28, 2023
Can relationships be transformed through leadership and social flow? Navigating the intricate web of digital relationships can be a tricky proposition. Tuesdays with Morrisey's Adam Morrisey uncovers the transformative impact of emotional recognition in the workplace with Andrew Horn, the mastermind behind Tribute. This podcast edition unravels the story of a platform redefining how […]
Read More