Congress Proposes The Sale of Federal Power Assets to Rebuild Infrastructure
In a proposal to Congress, a new plan to rebuild the Nation's infrastructure includes selling assets of federal power companies to state and local entities or private businesses.
The press release on the White House Website outlines the proposal and states, "The President developed this plan after meeting with and listening to Members of Congress, governors, mayors, county officials, and business leaders throughout the past year. His plan of action will increase investment, streamline permitting, strengthen rural America, and modernize our workforce."
Some of the details however, don't sit well with the American Public Power Association, who said they were "disappointed in the proposal" and noted that the assets power companies might sell have been paid for by electricity customers.
Among a few other companies, the Tennessee Valley Authority was highlighted in the proposal. U.S. Sen. Bob Corker of Tennessee, weighed in: "While it is important to remember that Tennessee Valley Authority has not received any taxpayer funding since 1999 and has taken positive steps in recent years to pay down its debt, as I've said before, I think it's valuable to evaluate from time to time reforms that could cause TVA to function more effectively for Tennessee taxpayers and ratepayers. That said, at the end of the day, selling TVA is a very unlikely outcome."[1]
[1] http://www.timesfreepress.com/news/breakingnews/story/2018/feb/12/trump-eyes-saletva/463516/
Latest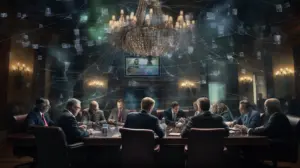 October 3, 2023
In August 2023, the National Institute of Standards of Technology (NIST) put out a request for comments on the Preliminary Update from the Internet of Things Federal Working Group (IoTFWG), which aims to provide the nation direction on how to improve IoT adoption and expand its use cases for the future of industrial, corporate, […]
Read More