Demand Response and the Power Grid: How to End Rolling Blackouts
Rolling blackouts are a big topic of conversation right now, with Texas and California facing potential summer blackouts due to heat waves. But most people don't understand why they're necessary and what they achieve. One crucial question surrounding blackouts is whether or not power grids can get to a place where they're not needed.
On this episode of Adapt Energy from Pantech Design, host Tyler Kern talked with Troy Morgan, CEO of Pantech Design, about the rolling blackouts, power grid supply and demand, demand response, and the increased demand on the Texas power grid.
When a consumer goes to turn on the lights, it is often taken for granted. There aren't many questions as to where it comes from or why it works. But, with energy, like most commodities, there is a supply and demand. Unlike the past, currently, the grid gets its supply from numerous sources. Traditionally, it would come from nuclear plants, hydroelectric or fossil fuel-burning plants. Now, solar and wind are added into the mix.
But, when it comes to demand, that's a whole other ballgame. One of the central states that feels this issue is Texas, which was highly publicized during the winter blackouts, and the state will be battling further blackouts in the summer months.
"The state of Texas is increasing its demand in a really crazy way, and it has to do with people moving," Morgan said. "There are a ton of people that are moving into the state of Texas. So, you take that, coupled with the normal things that happen, maintenance and really hot days, and supply being a challenge relative to demand, and you could potentially have a problem on your hands."
Follow us on social media for the latest updates in B2B!
Twitter – @MarketScale
Facebook – facebook.com/marketscale
LinkedIn – linkedin.com/company/marketscale
Latest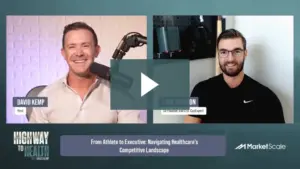 September 28, 2023
Navigating healthcare's competitive landscape requires innovative solutions addressing care quality and affordability. CapExpert is a game-changer in outpatient healthcare. It enhances asset management, ensuring the best care for patients. Luke Johnson, Co-Founder and CEO of CapExpert, spoke with Highway to Health's David Kemp on how CapExpert enhances asset management, bridging visibility gaps and streamlining […]
Read More