Digital Transformation and the Data Center & Green Energy Connection
Andrew Schaap, CEO of Aligned Data Centers, knows the ever-increasing role data centers play in the interconnected world of digital and smart technologies. And he provided his first-hand knowledge and insights on the advances data centers are making in today's digital transformation and clean energy best practices and utilization.
"If you look at the data center industry as a whole, it's one that didn't exist or existed in a much smaller or boutique fashion 20 years ago," Schaap said. "Today, virtually everything we do is somehow connected to the web and somehow connected device to device, B2C, and computer to computer."
The internet of things is also a large component of interconnectivity driving the need for data storage.
"All these devices and applications that we have are going back to a data center of some sort," Schaap said.
Add the pandemic into the mix, and digital transformation's acceleration growth means, more than ever, the need for data storage capacity is a primary focus for many companies.
"We had clients who came to us early this year just before COVID-19 started shutting down things and changing the way we worked," Schaap said. "And those same clients have doubled, tripled or quadrupled their workload with us."
If data centers and their users utilize a significant amount of energy, how is the energy industry taking advantage of data centers?
"We (the data center industry) are by far the group that is thinking the most about being carbon neutral," Schaap said. "The focus on sustainability is incredibly high inside of the data center and technology user community. Ultimately, for the energy we do use, how do we get it from the most sustainable sources? We (Aligned Data Centers) happened to be owned by one of the world's largest green energy producers. We have a parent company that believes strongly in the transformation of fossil fuels to green energy."
Making efficient use of building space and focusing on using renewable energy helps achieve sustainability goals while keeping the world connected digitally.
Follow us on social media for the latest updates in B2B!
Twitter – @MarketScale
Facebook – facebook.com/marketscale
LinkedIn – linkedin.com/company/marketscale
Latest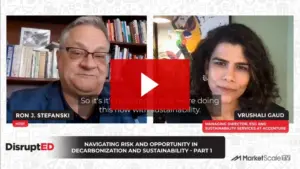 September 26, 2023
The global conversation has shifted dramatically towards decarbonization and sustainability in recent years. With the world experiencing unprecedented levels of disruption, from 5G technology to the challenges of a pandemic, the urgency to address climate change and its implications has never been more palpable. Although most business leaders see the vision of Sustainable Development […]
Read More