Electrifying the US Military: Can We Still Defend Ourselves and Interests?
In late April, U.S. Defense Sectary Dr. Kathleen Hicks reiterated the Biden Administration's decision to convert military vehicles to electric vehicles by 2030. There are significant hurdles to reaching this goal as pointed out by military.com, like the ambitious timeline and finding the batteries for the fleet.
Has the Biden administration considered the true impact of this decision?
Host Tim Synder of Matador Economics interviews Wade Wilkes, CEO of Wade Wilkes Media and Host of The Wade Wilkes Show on AM580 Talk Radio, to discuss this announcement on today's episode of Gasonomics. Wade is a former Army Sargent who served in various conflicts including Panama, Bosnia, and Iraq. He provides insight about the on-ground realities that could be severely impacted by these decisions.
Join the conversation as the two discuss:
How military vehicles work in the past and the limitations of current EV designs
Potential impacts on the military capacities to protect soldiers
How contractors may be unable to navigate the electrification transition
Wade is concerned that the timeline is too aggressive and doesn't take into account the day-to-day life of army personnel. "It's all diesel in the military… to streamline our operations. [When you add on the weight to these vehicles to protect us] the engine struggles to keep up. One time, our humvee turned over into a river and we lost sensitive, top-secret information." Wade calls on the Biden Administration to assure the American public that this plan won't compromise on safety and our interest abroad.
Wade Wilkes is the CEO of Wade Wilkes Media and Host of AM580 & 95.9FM Talk Radio, one of West Texas's most popular radio morning shows. Wade graduated with his degree in Political Science from West Texas A&M University. Wade began his radio career in the mid-90s working alongside his father, a prominent radio host in Lubbock, Texas. He's a retired U.S. Army Veteran who served America for 24 years, having been deployed to Nicaragua, El Salvador, Panama, Bosnia, and Iraq.
Latest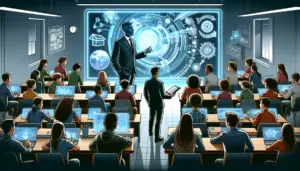 November 27, 2023
In an era where education stands at the crossroads of tradition and innovation, the potential value of thought leadership becomes the guiding star for progress. "Just Thinking" dives into this potential with host Kevin Dougherty and guest Evan Edwards, a Professional Learning Specialist at 806 Technologies who exemplifies the transformative impact of visionary guidance […]
Read More