FlowCast: Growth Opportunities for Pressure Relief Valves
The world of pressure relief values is a global one, with opportunities growing each day. And it was in another section of the globe, Bryan Voytilla, Global Product Director, Pressure Relief Valves at Trillium Flow Technologies, recently found himself. Voytilla recently returned from Trillium's two manufacturing facilities in France, and he brought home some timely insights and takeaways to share with FlowCast's Hilary Kennedy.
Trillium's Northern France facility focuses on many general valve needs, and their Southern France operation develops valves for the nuclear industry and aeronautics. While both factories share similarities and differences, Voytilla noticed that everything they are doing, from process improvements to technology design and innovation, is driven by customer needs.
"It's a constant focus to try and drive a better experience for our customers," Voytilla said. "And that can be anywhere from the beginning part of an order, and how we quote, all the way through the production cycle and the post-shipment cycle, and how our customers interact with us."
So, what does Voytilla see coming down the pipeline for pressure relief valves?
"There's always been this need for a higher degree of monitoring equipment in the field," Voytilla said. "It's difficult to bring a digital side to mechanical technology. So, I'm excited to see that as a need because it really drives and pushes the need for innovation and how we design and provide a product to our customers. It's exciting for me to be a part of this space, and this market, to see how it's going to change and how we support those customers."
But with change comes challenges, and Voytilla believes that the leap to new methods could be difficult for some, but the industry's major players will be excited to figure out all of the puzzle pieces to forge a new path for pressure relief valves.
Latest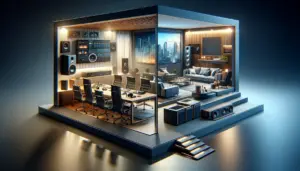 November 27, 2023
In this episode of "Pro AV Today," host Ben Thomas sits down with Audra Kinsley of Sonos Professional to unpack a topic that's causing (sound) waves in the audio industry: the fusion of commercial and residential audio systems. As we navigate through a landscape where consumer and professional audio worlds are increasingly intersecting, Sonos steps […]
Read More