GE faces massive long-term losses and major under-valuation
Since 2000, GE has lost close to $450 billion in market cap and many are waiting for the next downturn. While GE is becoming rapidly undervalued, an impending breakup may be a windfall for investors. The company's fall has been attributed to incompetent management and a lack of vision.
Though the stock still holds value. With a current undervaluation of about $50 billion, a successful breakup could unlock huge value for investors. While markets are rocky, GE's future is especially unclear. What do you think is next for the former energy giant?
Latest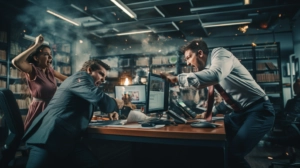 September 22, 2023
The kind of news that is delivered everyday serves as a grim reminder of the escalating violence across the U.S. Evidently, the need for proactive measures to ensure safety has never been more pressing. Such violence is not limited to any particular locale. It's actually permeating in so many different areas once considered […]
Read More