The Latest in Home Energy Automation
Pantech Design CEO Troy Morgan joined MarketScale's Tyler Kern inside the MarketScale Trinity Studio to discuss the latest trends in home energy automation.
The industry, Morgan said, has come a long way in a relatively short amount of time, and the biggest areas of growth are intelligence, the industry's ability to act on collected information and the scale at which solutions can be provided.
"As we learn more, we can apply those things and apply them in scale," he said. "It's being able to do that not just for one special, custom situation, but taking those lessons we learned in solving the challenges for that one thing and applying that to an apartment complex or many homes on a much grander scale."
Much of Morgan's expertise in solar, in-home batteries, automation and more is enhanced by his experience with his own home, which has served as a real-world testing ground for Pantech's solutions.
"A great example – (recently), in a two-day stretch, we had a tornado and snow," Morgan said. "It's amazing… our system – the energy automation side of things and our software – really did a fantastic job managing those potential threats to the home."
Morgan and Kern also hit on alternative methods of energy as the world's traditional power grids begin to falter, new-school thinking for addressing these strains, the questions surrounding new and emerging technology, and more.
—
For the latest thought leadership, careers, news, and event coverage across B2B, be sure to check out our industry pages.
Latest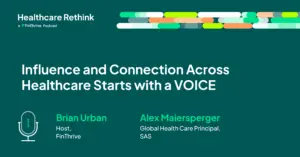 September 29, 2023
In the latest episode of the Healthcare Rethink podcast, presented by FinThrive, host Brian Urban sits down with Alex Maiersperger, the Global Principal Healthcare at SAS. Their conversation charts the role voice plays in influencing and connecting the healthcare industry. Maiersperger, who co-founded the Advancement League, shares his journey from being a healthcare optimist to […]
Read More