How to Choose the Right Home Power Backup Plan
There are a lot of power issues popping up on the grid, including rolling brownouts and blackouts, storms and outages. With these dangers on the horizon, it's essential to have a backup option for your home or business.
Today, we're taking a look at several backup energy options, like generators, solar panels and other tools. We're going to discuss the nuances of all of them and some of the positives and some of the negatives. Giving insights to host Tyler Kern on this episode of The Next Generation of Energy by RoseWater Energy is Joe Piccirilli, CEO, RoseWater Energy.
It's pretty obvious, but there are significant differences between generators, solar panels and
battery backups. A generator is a device used for power backup in a home and is the same type of device utility companies use to provide energy to the entire country. There is a motor that turns and puts out continuous voltage. What it can't do is deal with a load change, so if an air conditioner gets turned on, the generator will sag. When the air conditioner gets turned off, the generator is still producing the same amount of energy, and that creates a spike.
"There is no way for a generator to anticipate that load, so it can create power anomalies through sags and surges," Piccirilli said. "But, a generator will back up your home for as long as you have fuel, so for a long-term power backup, it is a very good option."
Each power source has its downsides. Generators also don't produce enough power for a home because homeowners don't choose a device robust enough for their homes. This can be alleviated with a power conditioning device, according to Piccirilli.
Listen to hear more about the different types of power backups for the home.
Follow us on social media for the latest updates in B2B!
Twitter – @MarketScale
Facebook – facebook.com/marketscale
LinkedIn – linkedin.com/company/marketscale
Latest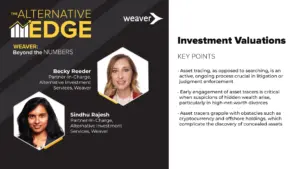 December 4, 2023
In this episode of The Alternative Edge, a Weaver: Beyond the Numbers Podcast, host Becky Reeder, an audit partner and co-leader of the alternative investments practice at Weaver, engages with Sindhu Rajesh, an Alternative Investment Services Partner with Weaver. They unpack the complexities of venture fund valuations, offering critical insights into industry dynamics and best […]
Read More