How to Use IoT to Manage the Energy Grid
The Energy Exchange explores the complex and critical intersection of energy, money and technology. Experts will use their insights and forecasts to outline what energy is available to us, the costs associated with that energy production and its use, and the technological innovations changing the way we utilize Earth's resources to power our way of life.
On this episode of The Energy Exchange, Host David Hidinger is joined by Andy Bennett, CEO of mPrest, a company revolutionizing orchestration and optimization software for industrial IoT, using AI and data-driven technology to provide real-time, end-to-end visibility and control over mission-critical systems, enabling digital IT/OT integration with a focus on Renewable Energy, while also working with Smart Cities, Cyber, Homeland Security, and Defense. Hidinger and Bennett talk about mPrest's mDERMS Intelligent Grid Management System.
mPrest got its start developing a software system for the Iron Dome, the missile defense system in Israel, which has recently been in the news.  mPrest developed a complex computational set of algorithms that can solve problems quickly. When they had this success on the defense side, they started thinking about the next logical place to apply their work. As they started their research, they realized that many of the same problems exist in the energy market.
"The concept of DERMS is 'how do I really start to orchestrate all those resources so that I can really make sound decisions." – Andy Bennett
With this knowledge, they turned their attention to building a new company that focused on the energy market and then turned to Bennett, who was recently named the CEO at mPrest. As the world shifts to renewable and distributed energy coming onto the grid, mPrest birthed this position of the company. These new distributed energy resources, or DERS, will more effectively manage utilities and energy deployment, and DERMS, a distributed energy resource management system, will oversee the entire system.
"The concept of DERMS is 'how do I really start to orchestrate all those resources so that I can really make sound decisions,'" Bennett said. "If I am an operator of a grid, it's one thing to have all those things out there, but if I can't deal with them in a fairly coordinate way, and I can't know what my demand load is going to be, when I need to go buy more power, when I need to produce more power, what that DERMS does is start to plan out at least 24 hours in advance."
Their solution is mDERMS, a distributed energy resource management system with a less rigid architecture. Listen to hear more about their solution.
Follow us on social media for the latest updates in B2B!
Twitter – @MarketScale
Facebook – facebook.com/marketscale
LinkedIn – linkedin.com/company/marketscale
Latest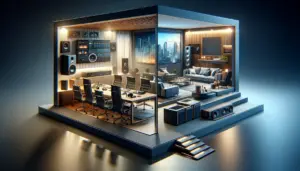 November 27, 2023
In this episode of "Pro AV Today," host Ben Thomas sits down with Audra Kinsley of Sonos Professional to unpack a topic that's causing (sound) waves in the audio industry: the fusion of commercial and residential audio systems. As we navigate through a landscape where consumer and professional audio worlds are increasingly intersecting, Sonos steps […]
Read More