Microsoft's Carbon-Negative Promise
MarketScale's Tyler Kern was joined by 1 Solar Solution Co-Founder Ali Samana to discuss Microsoft's recent pledge to become carbon-negative by 2030. Put simply, this means that Microsoft hopes to reach a point where the company removes more carbon from the environment than it emits.
There's a clear distinction, Samana said, between carbon-negative and carbon-neutral, where companies simply pledge to offset carbon output.
Though it's a noble aspiration, it's a lofty one, as well, due to the likely energy requirements Microsoft will continue to experience moving forward and the continued inability for renewable sources of energy to catch up to traditional ones.
However, Samana said he's optimistic that Microsoft's pledge is more than a marketing ploy.
"It is very possible (for Microsoft to actually achieve a carbon-negative status), and climate change activists like myself really hope that Microsoft follows through and that it's not just a pacifying act just to help get some liberal clients," he said.
Microsoft, Samana added, has been criticized for some recent partnerships in the oil and gas space, though the company's billion-dollar investment in its carbon-neutral pledge is a solid start.
Some of Microsoft's investments in meeting its goal include resources backing reforestation, technology that helps recapture carbon, and more.
The company's commitment, Samana said, extends to every employee – for example, Microsoft is encouraging individual employees to look at commutes and other forms of carbon emission to help the company meet its goal.
Kern and Samana also discussed steps companies of any size can take to reduce their emissions without the resources of a giant like Microsoft, including switching to renewable energy, providing options to replace bottled water, and more.
To keep up with everything going on in the Energy industry, check out MarketScale's industry publication here.
Latest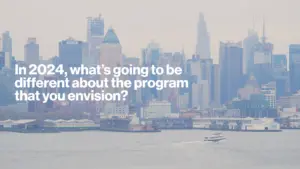 December 1, 2023
In the dynamic telecommunications landscape, Verizon's Partner Network continues to evolve, adapting to new trends and opportunities. For another segment featuring Mark Tina, VP of Indirect Channel Distribution and Channel Chief at Verizon Business Group, he explores exactly what types of significant changes and advancements the Verizon Partner Network will see in 2024. In this […]
Read More