Movement by MarketScale Month in Review
MarketScale is committed to covering the stories and trends that impact B2B industries. In this month in review, we take a look back at a few of the stories that impacted Transportation and Energy.
Featured Stories:
Sustainable in cost and production is at the heart of Vaya Space. By incorporating 2 million plastic bottles into the output of each satellite, the company helps rid the earth of otherwise harmful waste. Vaya Space is a genuinely purpose-driven company. More users will migrate to satellites as safety and reliability become enmeshed in regular practice.
The mask mandate for all flights originating in the United States, due to expire on May 3rd, came to a sudden and swift end on Monday, April 18th, after Florida Middle District Judge Kathryn Kimball Mizelle deemed the order unlawful due to lack of mandate reasoning. The judge's order essentially ends the requirement for all U.S. passengers and airline staff. While this order applies to the Federal mask mandate, masks could be required based on local ordinances and could differ traveling to and from various international locations. Say Yes to Travel's Sarah Dandashy said the reaction from the airline industry was swift.
Latest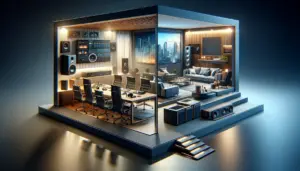 November 27, 2023
In this episode of "Pro AV Today," host Ben Thomas sits down with Audra Kinsley of Sonos Professional to unpack a topic that's causing (sound) waves in the audio industry: the fusion of commercial and residential audio systems. As we navigate through a landscape where consumer and professional audio worlds are increasingly intersecting, Sonos steps […]
Read More