New U.S. Oil Auctions Say "Nothing" About Short-Term Drilling. U.S. Energy Policy is Still Shy on New Oil Leasing.
U.S. oil auctions are back…sort of. In a significant move since the passage of President Joe Biden's landmark climate change law, the U.S. held its first sale of oil and gas drilling rights on federal lands in late May, attracting over $78 million in high bids. This auction of 19 parcels in New Mexico, the second of its kind in New Mexico since Biden's inauguration, attracted nearly the entire high bid total of $78.81 million, with prominent energy companies like Promontory Exploration LP securing lucrative leases, and others like Devon Energy Corp paying the highest price of $16.2 million for a 280-acre parcel. Meanwhile, the auction in Kansas saw less interest, and the terms of the sale reflected new Inflation Reduction Act requirements, including increased royalty rates and a higher starting bid per acre.
Despite the Biden administration's initial attempts to suspend such leasing to scrutinize environmental impacts, the Inflation Reduction Act necessitates these auctions if federal rights of way are offered for renewable energy projects. However, the sale has not been without controversy, as several environmental groups have protested, arguing that the administration has failed to adequately analyze mitigation strategies for the greenhouse gas emissions resulting from these developments. Some experts say the auction isn't going far enough to reinvigorate the U.S.' oil and gas market, and that it's no token gesture signaling a resurgence of fossil fuel drilling in the U.S.
Mixed signals from the Biden administration on further drilling or U.S. oil auctions, as well as continued opposition from environmental groups, underline the critical and ongoing debate over America's energy future. Tim Snyder, host of Gasonomics and chief economist at Matador Economics, gets in on the debate and explains why, in his view, this is nothing more than fulfilling an established commitment.
Tim's Thoughts
"On Thursday, May 25th, the US offered the first new auction for oil and gas drilling rights since passing the Inflation Reduction Act of 2022. We were asked, what does this first drilling rights auction since November of last year say about the US short-term approach to domestic oil production? We have four responses for you.
First and foremost, says nothing. The real reason President Biden's Interior Department offered these leases on 45 parcels of land on Thursday was because they were forced to do so by the Act itself. By the way, those 19 parcels of land covered 3,300 acres in New Mexico and 26 parcels of land covered 6,800 acres in Kansas.
Number two, says nothing at all. Don't think this is a breakthrough in energy policy. Biden's Interior Department had attempted to suspend federal oil and gas leasing to study its environmental impact and impacts on climate as well. But the IRA that passed last year requires some oil and gas auctions if federal rights of way are offered for renewable energy projects. Bottom line, Biden's IRA Act, or as I call it, Irresponsible Renewables Act, had a couple surprises in it. Maybe our elected officials should have read the law before they rushed to pass it.
Number three, New Mexico alone accounted for 19 new lease parcels that were offered on Thursday, and Kansas, of course, had 26 parcels. It's important to note that New Mexico accounted for one half of the US total production increases for crude oil production in 2022 and remains on track to do the same in 2023, no matter what the Department of Interior does.
Remember, number four, remember, this is in no way a reprieve for the assassination of fossil fuels by the Biden administration. The Bureau of Land Management reported several environmental groups filed protests and sought cancellation of this lease sale. Their point of contention was the Biden administration failed to analyze mitigating efforts on greenhouse gases. In other words, killing the economy must, in their minds, supersede any effects to follow the law or even follow common sense."
Article written by Daniel Litwin.
Latest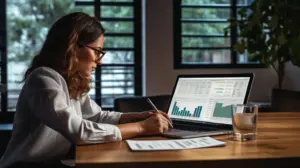 October 4, 2023
The intersection between security and financial acumen often gets overshadowed in a constantly changing economic landscape. While security is essential for safeguarding assets and ensuring continuity, its perceived monetary value is mired in misconceptions affecting company profitability. For many, security is viewed primarily as an expense rather than a potential cost-saver. However, understanding […]
Read More