Optimize Fuel Center Operations with AvaLAN's Remote ATG Monitoring
Technology has the incredible ability to make life simpler, easier, and more efficient. It touches everyone, everywhere, within homes, workplaces, and even fueling stations. Automated tank gauges (ATGs) provide fuel center owners with critical information regarding inventory levels, deliveries, possible problems, and even leaks to ensure compliance with government regulations. Thousands of fuel centers across the country and the world utilize ATGs to enhance operations. But AvaLAN is taking ATGs to the next level by enabling remote access to tank gauges so that operators can access information at any time, from any place on Earth, using a network-based connection.
AvaLAN has partnered with Verizon to offer fuel center owners a wireless Ethernet solution that provides remote access to real-time tank gauge information, all with lower monthly data rates than traditional M2M services. This easy-to-integrate technology delivers secure and reliable connectivity for commercial fueling and tank gauging systems. By leveraging this solution, operators can ascertain the fuel levels of specific tanks, when to order more inventory, which tanks receive the most traffic, and which pumps sell the most premium fuel. Users are also able to forecast fuel purchasing to determine the best time to buy inventory and save money.
The remote, anytime access that AvaLAN's solution provides also gives operators the ability to understand their entire network of fuel pumps on a holistic level, rather than just on an individual pump basis. Owners can even monitor fueling stations to detect leaks so that proactive measures can be taken to prevent costly problems before they occur.
To equip fuel center ATGs with remote access capabilities, AvaLAN utilizes the NetdropLTE Industrial Cellular Gateway. This gateway is designed to enable reliable data connectivity for commercial applications, critical infrastructure, remote monitoring, and video surveillance. It features next-generation antennae and professional grade parts that provide dependable data connectivity even in low signal or distant locations. Other equipment used in the remote monitoring solution include the easy-to-install AvaLAN 900 Mhz Ethernet Bridge which enables non-line-of-sight, point-to-point wireless Ethernet connections to tank gauges.
Now, for the first time in history, fuel center owners can monitor ATGs and access fuel tank information 24/7, anywhere in the world, through the use of network based connections that only AvaLAN provides. To discover more about how this innovative capability can optimize your fueling station, contact us to schedule a free consultation by visiting www.avalan.com/automatic-tank-gage-monitoring today!
Read more at avalan.com
Latest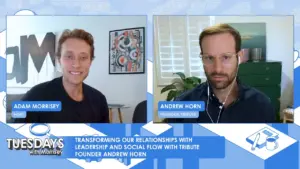 November 28, 2023
Can relationships be transformed through leadership and social flow? Navigating the intricate web of digital relationships can be a tricky proposition. Tuesdays with Morrisey's Adam Morrisey uncovers the transformative impact of emotional recognition in the workplace with Andrew Horn, the mastermind behind Tribute. This podcast edition unravels the story of a platform redefining how […]
Read More