Regenerative Agriculture: A Sustainable ESG Strategy
Environmental, social, and governance (ESG) business practices once gave businesses a competitive edge with consumers, clients, investors, and stakeholders. However, the tide has turned. Companies no longer have the luxury of designing and implementing ESG strategies when it's convenient. In today's world, businesses are expected to do more to protect the environment and support evolving societal expectations. A promising solution to addressing environmental challenges is the practice of regenerative agriculture.  
E2B: Energy to Business host Daniel J. Litwin caught up with Patrick Long, Director in Opportune LLP's Process & Technology practice, and Rick Marriner, President, and Chief Operating Officer of Standard Soil, to discuss how regenerative agriculture practice can play a crucial role in addressing environmental challenges and how it fits within the broader scope of ESG.
Together, agriculture, land use, and deforestation represent the second-largest source of greenhouse gas emissions globally and the primary driver of biodiversity loss. Healthy soils can sequestrate carbon, support biodiversity, preserve water, and improve the resilience of agricultural yields, bringing healthy food while ensuring a sustainable source of income for millions. Regenerative agriculture is an opportunity to close the carbon loop.
For example, Standard Soil is embracing natural patterns of herding to transform agriculture. As Marriner puts it, "stepping back to move forward." The company wants to reinvent agriculture with a focus on the ranching industry. By rotating cows and concentrating on different sections of land at various times, the soil and grass can remain healthy.
Feeding in rotation across the pasture is also known as mob grazing. Animals munch on the grass but not so much that they eat down to the roots and not so selectively that some grass dies off. Moving the animals in this way "allows the land to rebound and regenerate," explains Marriner. The moving and shifting of cattle give grass new life. Simply put, a focus on growing better soil grows more, better grass, which produces more and better beef, faster.
While going green used to give a company an edge, it has now become standard practice today. This practice is also being considered and applied throughout the global supply chain.
"One of the key ingredients that have intersected with supply chains, my area of focus, has been around ESG with a huge emphasis on the environment and making sure that we truly understand and are cognizant of the carbon footprint that is out there," Long says. "It's great to find companies that are innovative like the one that Rick is working with that are doing something about it to create net positive benefits overall."  
Latest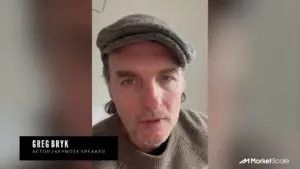 November 30, 2023
In a crowded marketplace, authenticity could be the strongest differentiator in standing out from the competition. Actor and Keynote Speaker Greg Bryk shares his insights on making a mark, on-screen and in the B2B arena. Bryk emphasizes the power of authenticity over pandering to the audience. He explains, "The way to stick out from […]
Read More