Seasonal Trends Aren't Shaving Off Energy Prices Like Before. Predictions Indicate Gas Demand Will Continue to Uptick
As we cross the halfway mark of 2023, stakeholders in the energy sector are grappling with the changing landscapes of oil, gas, and renewable resources. A volatile year of varying energy prices has underlined the critical need for analysis and prediction. With a stark 41 percent decrease in the price of natural gas and a 6 percent increase in retail gasoline prices since the start of the year, the stakes for accurate forecasting are as high as ever.
The burning question for industry stakeholders, policymakers, and consumers alike is: What can we expect from energy prices in the second half of 2023? And how will geopolitical and economic variables shape these expectations?
In a new episode of "Gasonomics," host Tim Snyder, Chief Economist at Matador Economics and host of the show, explored a detailed analysis of the current state of energy prices and provided a forecast and his predictions for the latter half of the year.
Several of Snyder's talking points included:
A comprehensive analysis of how energy prices have evolved in the first half of 2023, from crude oil to diesel fuel.

A discussion on how certain global events, such as Russia's pledge to cut its oil production and increased Chinese demand for oil, are impacting the energy markets.

His predictions for the energy prices for the second half of the year, taking into account possible geopolitical and economic influences.
Tim Snyder is a renowned figure in the world of economics and energy. As Chief Economist with Matador Economics and Principal and Economist with Exec HQ, he brings a wealth of knowledge to the table. His expertise in energy economics and his ability to interpret complex market dynamics make him a leading voice in the sector.
Latest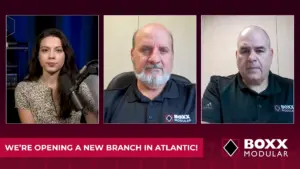 December 4, 2023
In an era where construction innovation is reshaping the industry, modular construction's growth continues to rise. In this episode of Built Modular, Boxx Modular's strategic expansion into Moncton, Atlantic Canada takes center stage. Host Gabrielle Bejarano welcomes Charles Landry and Ray Girouard to explore the implications of this venture. Bejarano, Landry, and Girouard discuss […]
Read More