Simulations Find Answers Blowing in the Wind
The Energy Exchange explores the complex and critical intersection of energy, money and technology. Experts will use their insights and forecasts to outline what energy is available to us, the costs associated with that energy production and its use, and the technological innovations changing the way we utilize Earth's resources to power our way of life.
As energy demands shift from fossil fuels, the world will turn to other energy sources. One of those is wind energy. Energy Exchange Host David Hidinger came across Joachim Toftegaard Hansen's work when he published a few papers on wind farms of the future.
On this episode of Energy Exchange, Hidinger talked with Hansen, a Fluid Mechanics Engineer at Aerotak and Master's Student at the Technical University of Denmark, about his research and writing on wind farms.
Hansen's undergrad thesis dissertation focused on wind turbines. He studied at Oxford Brookes University, where they have an advanced research computing facility central to his work. With a long-time interest in structural mechanics, he set out on understanding wind turbines. While on holiday back in Denmark, he started reaching out to wind turbine companies and asking about working on a project. They didn't do projects with undergrad students, but he found some information on YouTube about an American professor.
He found CalTech Professor John Dabiri and his unique vertical-axis wind turbines. Inspired, he thought about 'what if you ran a CFD (Computational Fluid Dynamics) test on these turbines?' Dabiri had run a lot of tests, but Hansen understood the future of these turbines lay in CFD. He pitched the idea, and his thesis was approved.
"A numerical way to solve these famous Navier stokes equations," Hansen said. These types of partial-differential equations can solve the most challenging problems in fluid dynamics. This is why the computers at Brookes were so central to Hansen's work. He literally had to run thousands of mathematical simulations on supercomputers.
"If I had to do those [the simulations] on a normal computer, it would take about 40 years," Hansen said. The results took time, but not as long.
Listen to learn more about the fascinating future of wind turbines and hear Hansen's results.
Follow us on social media for the latest updates in B2B!
Twitter – @MarketScale
Facebook – facebook.com/marketscale
LinkedIn – linkedin.com/company/marketscale
Latest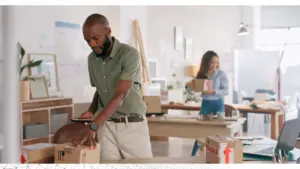 November 29, 2023
While the logistics industry often gravitates toward cutting-edge technology, Wesley Boyce, an Assistant Professor of Practice in Supply Chain Management and Analytics at the University of Nebraska-Lincoln, brings to light the enduring significance of radio communication. In a world enthralled by digital innovation, he argues that the simplicity of radios could be their greatest […]
Read More