SUPERIOR CLADDING AND ARC SPECIALTIES: FORGING PARTNERSHIPS AND INFRASTRUCTURE
The National Association of Corrosion Engineers (NACE) estimates that corrosion costs $2.5 trillion to the global economy, or roughly 3.4% of the world's GDP, with $1.372 billion attributable to the oil and gas production industry. In 2017, the U.S. produced 14.72 million barrels per day, surpassing Russia's 11.3 million and Saudi Arabia's 9.96 million barrels per day. As America's pipelines continue to flow and develop, corrosion becomes increasingly challenging and costly, and the need for corrosion-resistant piping becomes more imperative.
Nobody knows this more than Superior Cladding. As a leading provider of cladding products for the oil and gas and other industries, Superior Cladding boasts 35 years of expertise, onsite welding engineering, and the industry's best welding systems. Based out of Houston, Texas, the company provides corrosion-resistant or hard facing cladding overlays to safeguard vital infrastructure, protecting surfaces from corrosion, impact and wear, prolonging component life expectancy while resulting in fewer replacements and repairs. To meet exacting industry expectations such as ASME Section IX, DNV-E101, NACE MR0175, and API: 6A, 16A, 17D, the equipment they use to apply their precision welded cladding solutions must be accurate, flexible, easy to use and extremely robust.
From day one, Superior Cladding has turned to ARC Specialties for their robotic welding equipment needs for three simple reasons: (1) ARC custom builds their own equipment; (2) ARC is an equal parts hardware and software company; and (3) the user-friendly completely automated or manually operated precision control that ARC equipment delivers. Watch this video to see why welding engineer Nathan Sumrall at Superior Cladding states that "the products and equipment that ARC Specialties makes are not useful at this company…they are VITAL!"
Latest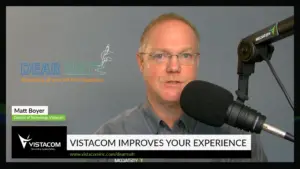 December 11, 2023
In a time when the AV industry supply chain faces unprecedented challenges, understanding its current status and future trajectory is crucial. In this week's segment of "Dear Matt," presented by Vistacom, host Matt Boyer, the Director of Technology at Vistacom, brings his over 30 years of experience in the audiovisual industry to the status […]
Read More