T. Boone Pickens, Oil Tycoon and Philanthropist, Passes Away at 91
Iconic oilman T. Boone Pickens passed away on Wednesday. He was 91 years old.
Pickens was far from a man who simply struck oil and made it big. The founder of Mesa Energy rewrote the rules of oil and gas with his corporate raider mentality.
Born in Holdenville, Oklahoma in 1928, Pickens moved to Amarillo, Texas soon after. He lived in the Texas panhandle late into his life on the 66,000-acre Mesa Vista Ranch.
The business tycoon attempted numerous hostile takeovers of large oil companies, and while he failed several times, he was still able to make multimillion-dollar profits through his efforts.
Pickens was an ardent supporter of shareholder rights, founding the United Shareholders Association in 1986. This idea pressured corporate executives to listen to their shareholders, something not taken seriously before Pickens' movement.
"I was a disrupter before disrupters were cool," he said in a Forbes column in 2017.
After selling Mesa in 1996 at the age of 68, Pickens sought out on a new business venture. He started BP Capital Management, an energy-centric hedge fund. Pickens also became a major proponent of American energy independence. He launched the 'Pickens Plan' in 2007, which included increased investment in renewable energy sources like wind.
During the past two decades, Pickens ran the firm until closing it last year due to declining health. In this time he also gave back more than $1 billion in philanthropic causes, including $500 million to his alma mater, Oklahoma State. While he amassed billions in his business career, Pickens' net worth stood under the billion-dollar mark at the time of his death because of his substantial donations.
Latest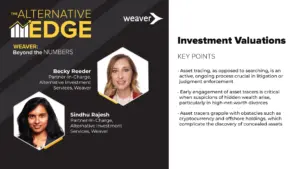 December 4, 2023
In this episode of The Alternative Edge, a Weaver: Beyond the Numbers Podcast, host Becky Reeder, an audit partner and co-leader of the alternative investments practice at Weaver, engages with Sindhu Rajesh, an Alternative Investment Services Partner with Weaver. They unpack the complexities of venture fund valuations, offering critical insights into industry dynamics and best […]
Read More