The Energy Exchange: A New Energy and Technology Podcast
The Energy Exchange explores the complex and critical intersection of energy, money and technology. Experts will use their insights and forecasts to outline what energy is available to us, the costs associated with that energy production and its use, and the technological innovations changing the way we utilize Earth's resources to power our way of life.
Lithium batteries fuel electric vehicles and consumer electronics, but they have issues because they contain liquid electrolytes. Solid-state batteries are revolutionizing the lithium battery industry. The Energy Exchange host David Hindinger welcomed an expert on the topic, Dr. Sumin Zhu, to discuss these innovations. Dr. Zhu is the CEO of Ampcera, a developer of solid-state electrolyte materials.
Dr. Zhu first explained what solid-state batteries are. "They use a solid electrolyte, so there is no liquid in the battery."
"You can't charge current batteries quickly because the battery heats up as it charges. It's risky, so it's slower." – Dr. Sumin Zhu
The loss of liquid delivers key benefits, per Dr. Zhu. "Conventional batteries have a flammable liquid, so they can catch fire, like what happened with the Samsung phones. So, it's much safer."
Along with more stability, solid-state batteries also have better energy density. "They can be 50 to 100 percent longer battery life," Dr. Zhu added.
Third, solid-state batteries charge much faster. "You can't charge current batteries quickly because the battery heats up as it charges. It's risky, so it's slower."
These new batteries are also moving from the world of R&D to production, with manufacturers like Volkswagen and Toyota including them in new product roadmaps for their electric vehicles (EV). "It takes years of effort, but they are moving toward pilot production and then to high-volume manufacturing," Dr. Zhu shared.
Once they are ready for mass production, it will push the EV industry to new horizons and lower barriers of adoption by consumers.
"The solid-state battery addresses pain points faced today with EVs. At high volume, manufacturing costs will fall. You'll also be able to charge faster, possibly in 15 minutes or less," Dr. Zhu said.
Follow us on social media for the latest updates in B2B!
Twitter – @MarketScale
Facebook – facebook.com/marketscale
LinkedIn – linkedin.com/company/marketscale
Latest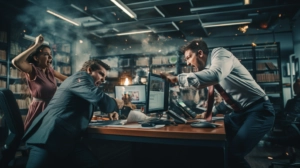 September 22, 2023
The kind of news that is delivered everyday serves as a grim reminder of the escalating violence across the U.S. Evidently, the need for proactive measures to ensure safety has never been more pressing. Such violence is not limited to any particular locale. It's actually permeating in so many different areas once considered […]
Read More