Trillium's Role in the Growing Hydrogen Market
Hydrogen is considered a greener and better alternative to other forms of gas energy production. It reduces emissions and can be produced from many sources, as opposed to only fossil fuels. The hydrogen market has a promising future but there are some key areas that need to be explored with its growth.
Where is the growth of the hydrogen market headed? And how are some companies in the industry contributing?
For this episode of "Flowcast," host Michelle Dawn Mooney interviewed two team members of Trillium: Simon Bradshaw, Global Director of Engineering and Technology, and Sanket Walimbe, Technical Development Manager. The three discussed hydrogen, its value, some of the technical challenges in utilizing it, and how it can see wider adoption across the globe.
Mooney, Bradshaw, and Walimbe further talked about:
Renewable energy and its rise
The potential of the hydrogen market and its value chain givens its pros and cons
The future of the hydrogen market
"The cost of hydrogen is still really high compared to other methods of producing it, but the main ones are gray and black hydrogen, or blue hydrogen, which are generally derived from fossil fuels. 'Those costs for green hydrogen are likely to reduce significantly depending on innovation and all those things within the marketplace, but it's currently still not cost competitive," said Bradshaw.
Walimbe added that Trillium is best equipped in preparation for the growth of the hydrogen market.
"All I would say is that we have great intelligence on this topic within our business and product line, and it can also be compatible with the application with certain modifications, and with this in hand, we are keeping an eye on how the economy is taking shape in the future so we can adapt to it as we go on," he said.
Simon Bradshaw is the Global Director of Engineering and Technology at Trillium. He's been with the company for a year now, and was previously the Director of Engineering at Circor Industries Americas. Bradshaw has been in the engineering industry since 1986 and is a graduate of Heriot-Watt University and also holds credentials as a Chartered Engineer from the Institution of Engineering Designers.
Sanket Walimbe is the Technical Development Manager at Trillium. He's been with the company for close to two years now and was previously the Principal Engineer at Trelleborg Group. Walimbe is a graduate of Alliance Manchester Business School and the University of Sheffield.
Latest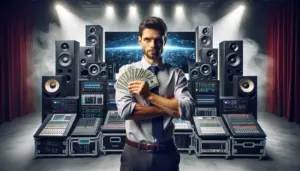 December 8, 2023
Mastering AV sales strategies in a global professional audio-visual (Pro AV) market, poised to reach $79.2 billion by 2028, requires much attention to detail. The surge in demand from corporate, government, and institutional sectors, driven by the need for enhanced productivity and efficient working environments, gives AV sales pros a lot of opportunity. In […]
Read More