Understanding the Current and Future State of Renewable Energy with Dr. Thomas Schoepf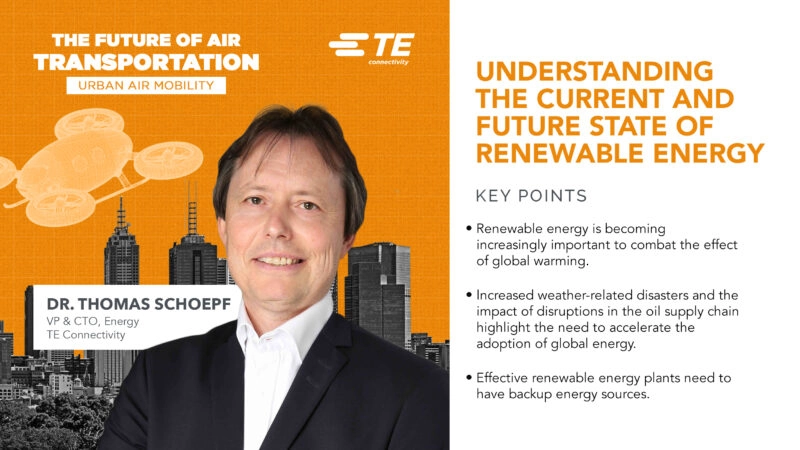 On a global level, we are seeing increased demand for renewable energy sources.
In this intriguing episode of Our Connected World, podcast host Tyler Kern sat down with Dr. Thomas Schoepf, VP and CTO of Energy at TE Connectivity to discuss the current and future state of renewable energy, barriers to adopting renewable energy sources, and much more.
So, what is renewable energy actually? "When we say renewable energy sources, we mean mainly three available, primary energy sources – such as hydropower, wind, and solar. Those are naturally replenished so day after day the river flows, the sun shines, and the wind blows," explained Dr. Schoepf.
These sources of energy are becoming more critical as climate change continues to negatively affect the world. The increase in weather-related disasters alone illustrates the human cost of ignoring global warming. Additionally, the crisis in Ukraine has the potential to further accelerate renewable energy trends as countries seek to eliminate its reliance on Russian gas.
Yet, although the need and demand are clearly present, we have a long way to go for full-scale implementation of renewables as the primary source of energy. One reason for this is that it took a while for the industry to get the costs of implementation down to a level where the return on investment became attractive to businesses.
As Dr. Schoepf mentions, "another challenge is the volatility of wind and solar as energy sources, when the sun is not shining and the wind not blowing, which can lead to a decrease in energy output." As such, renewable energy plants need a backup source or need to be paired with supplemental energy sources. Learn more on TE.com.
Latest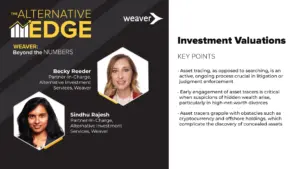 December 4, 2023
In this episode of The Alternative Edge, a Weaver: Beyond the Numbers Podcast, host Becky Reeder, an audit partner and co-leader of the alternative investments practice at Weaver, engages with Sindhu Rajesh, an Alternative Investment Services Partner with Weaver. They unpack the complexities of venture fund valuations, offering critical insights into industry dynamics and best […]
Read More