Why the Energy Sector is Calling Drones Into Action
Drones are reporting for duty in increasing numbers over the past few years, and 2019 will likely see continued growth. Useful for diverse tasks from photography to shipping, and from crop monitoring to law enforcement and rescue operations, the drone is an important technological advancement. According to a recent independent report released by the Energy Drone Coalition, drones are making a huge impact on the energy industry.
The study invited professionals in the energy and engineering sectors to participate, and the results show how far drones have come in these areas.
"This survey was created in July 2018 and distributed within the Energy Drone Coalition network in the North American region with 214 total surveys completed," InnovateEnergy Managing Director Sean Guerre said. "The survey is planned to be conducted again in 2019 to assess operational changes, market growth and technological developments of commercial drones in the energy industry, and we look forward to having even more respondents share their insights."
The 2018 report revealed several key points, including the following:
Approximately two-thirds of the responding energy companies are currently operating drones.
50 percent of those companies utilize in-house drone operations.
Multi-copters are the most utilized drone configuration.
Endurance, range, reliability and flexible utilization are the fundamental elements necessary to grow or scale drone use in the industry.
The current emphasis is on drones for maintenance and inspection applications while the industry is looking to increase R & D efforts for BVLOS operation.
But how are drones beneficial to energy operations? One company decided to put drone technology to an altruistic and practical use. After Hurricane Maria wreaked devastation across Puerto Rico in the fall of 2017, more than 220 Duke Energy workers traveled into the area to help make sense of the destruction and repair the damage. Drones played a major role in the mission.
Drones can go where people cannot, which is a huge part of their appeal. To restore power in Puerto Rico, Duke utilized drones to scour mountains and ravines to look for the buried power infrastructure as well as locate a navigable path to repair damage. Company leaders recognized that the traditional use of helicopters created an added danger of clipping utility lines, so they had the idea of using drones instead, and the idea turned out to be a brilliant one.
While drones are not new to the energy scene, they are certainly in the relatively early stages of development. Duke is not the only company seeing the value of this technology. Bigger names like Boeing and AeroVironment have utilized drone technology to capture image, topographical, and other data for oil companies. As a result of these successful ventures, the FAA has become increasingly confident in their use. It is predicted that the greatest growth area for drones in energy will be in utilities in the near future. Over the next decade, in addition to increased use in natural disaster response like the mission at Duke, it can expect to see them employed for a variety of tasks, such as examining transmission lines, performing security at power plants, and inspecting solar and wind farms.
Follow us on social media for the latest updates in B2B!
Twitter – @EnergyMKSL
Facebook – facebook.com/marketscale
LinkedIn – linkedin.com/company/marketscale
Latest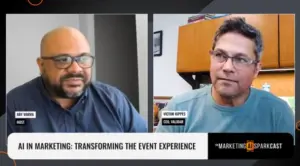 November 28, 2023
AI has been gradually changing the landscape of event technology at a very rapid pace. In an industry where staying ahead of technological trends is crucial, AI's impact on marketing and event management has become increasingly significant. As witnessed in the rise of account-based marketing and enhanced personalization, AI is effectively reshaping how events […]
Read More