Why Was the Texas Energy Grid Unprepared for a Major Winter Storm?
A snowstorm and brutal cold hit an unprepared energy system and left nearly five million energy customers in Texas, North Dakota, Arkansas, Louisiana and Mississippi in the dark. Power companies in affected states had to resort to rolling power blackouts to save their networks from collapsing, leaving households and businesses without power and heat.
In recent years power grids have come to rely more on wind and solar power to meet increasing electricity demands. But the alternative energy sources can sometimes vary with the weather and this whether it was severe enough to hit both wind and gas fired generation in Texas. And there wasn't enough reserve power to keep the lights on or the heat or even the water in some places.
The winter storm also crippled U.S. oil and gas production reducing it by more than a third in the Permian Basin. Major producer Occidental told customers it would be forced to curtail oil deliveries while Chevron shut some wells in the region. More than 20 refineries were disrupted by the polar blast sending gasoline futures surging. Temperatures in Texas were low enough to freeze oil and gas liquids in pipelines laid on the ground just as the cold cause demand to jump.
For more, watch the video above.
—
This article was contributed to by Bloomberg
Latest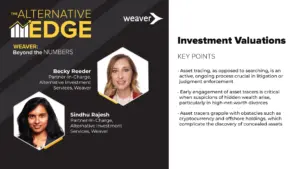 December 4, 2023
In this episode of The Alternative Edge, a Weaver: Beyond the Numbers Podcast, host Becky Reeder, an audit partner and co-leader of the alternative investments practice at Weaver, engages with Sindhu Rajesh, an Alternative Investment Services Partner with Weaver. They unpack the complexities of venture fund valuations, offering critical insights into industry dynamics and best […]
Read More