Why You Need to Pay Attention to the Rising Cost of Diesel
Welcome to 2023, a year of change. Given last year's waves of inflation, many are hopeful this year will bring in lower prices and higher purchasing parity. However, while some markets in the U.S. are trending toward recovery, others, like grocery prices, are still on the rise. What might be happening behind the scenes that is extrapolating these rising costs?
Inflation, or shrinkflation in many cases around the U.S., has a multitude of causes, not least one following a global pandemic. For one, prices at the pump are shifting – but not directly for consumers, rather, for the consumer-driven industries, like grocery shopping. The cost of diesel is rising.
There is a lack of attention on the loss of refining capacity for diesel, which, combined with governmental policies that aren't doing enough, doesn't bode well for the summer season. Tim Snyder, Economist with Matador Economics shares his thoughts on the matter.
Tim's Thoughts:
"Good afternoon and welcome to 2023. It's an old saying that goes, what a difference a day makes. And I'm going to amend that just a little bit and say what a difference. A year makes maybe, or maybe not, you decide. We start this year in the grips of some inflation. While there are a few markets that are beginning to trend towards maybe a little bit of a recovery, the food market is still a major offender.
We also see the cost of shelter that has remained elevated as well. The interest rate on your home mortgages has doubled year over year and rents have stayed elevated, some by more than 25. We've seen the cost of a dozen eggs that have risen over 40% year over year. And most of us have noticed the size of processed foods, not just the price, but the size of processed food offerings that have gotten smaller significantly over the last year as well in signs of what we call shrink inflation.
Gasoline and diesel prices have been somewhat elevated. Now, gasoline prices have fallen slightly, but diesel prices have remained elevated. They're still quite sticky in this particular market. However, what concerns us the most is the lack of attention being paid to the loss of refining capacity for diesel fuel, which produces jet fuel kerosene and so forth.
Over the year, diesel is the fuel of business in the United States. It runs our trains and our trucks. It runs our planes and our ships, and it runs the production of food and fiber in the United States as well.
Expect to see prices spike again this year as we head into the middle of the year and the peak of the drive season."
Latest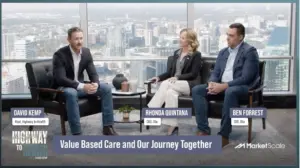 December 7, 2023
As of recent times, the healthcare industry has been progressively shifting towards value-based care, a model that emphasizes patient outcomes over the quantity of services delivered. This transition represents a significant shift that promises to enhance patient experiences and outcomes while controlling healthcare costs. With a growing emphasis on this approach, especially over the […]
Read More