The Current US Oil Landscape: Record Profits Among a Diesel Shortage
Diesel Reserves Hit Extreme Lows
Once again, record-low oil reserves are making the headlines in oil and gas. Biden committed to releasing an "additional 15 million barrels" from the strategic petroleum reserves, reported Tim Snyder. The genuine concern is the current levels of the diesel reserves are a clear sign of a diesel shortage.
Diesel reserves have hit low levels. Just how low has been reported with widely varying dates.  CNBC says it's not been this low since the 1950s. But Markets Insider reports that the last time the reserves were this low was in 2008. Regardless, most agree that the current supply provides the country with about 25 days' worth of uninterrupted fuel. And prices are rising. "The issues with diesel fuel is our production capacity has fallen and cannot keep pace with our demand," said Snyder. "Over the last two years, we've lost two critical distillate facilities. One in Philadelphia, due to fire. And one in Canada, due to COVID," said Snyder. He reports that the closure of these two facilities decreased daily diesel production by one million barrels. CNBC also referenced the closure of the Canadian distillate facility.
Ripples of the Diesel Crunch
From farmers to families, the diesel crunch is affecting everyday Americans. And the problem only stands to get worse as we head into winter. Diesel is up 33 percent in November and is expected to continue to rise (CNBC). But what does that mean for everyday Americans?
It's more than higher prices at the pump for diesel fuel. It ripples into shipping costs, food costs, and other goods. "The products that fall into this category are kerosine, jet fuel, diesel fuel, heating oil, industrial gas oil, and marine gas oil," said Snyder. Simply, if freight is paying more for fuel, they'll charge more for deliveries. As that cost gets covered, it will eventually reach wallets.
Meanwhile, Oil Reaps Record Profits
The oil industry has come under fire recently as Biden and other world leaders criticized the corporations for reporting record-breaking profits. According to Reuters, "Four of the five largest global oil companies have now reported results, combining for nearly $50 billion in net income." And Chevron reported its second-largest profit in history, despite decreased production. Oil was one of the quickest industries to bounce back after COVID. On average, oil companies reported profits akin to pre-pandemic as early as Q2 of 2021. It exceeded profits between 2018 and 2019 by Q3 of 2021 (Reuters). Snyder comments that profits aren't the issue. But it's hard not to feel the pressure of our ever-growing wealth gap. Other experts are urging the U.S. to sanction the industry with an additional tax. In fact, British lawmakers approved a 25 percent windfall tax for British fuel in July (Reuters).
Latest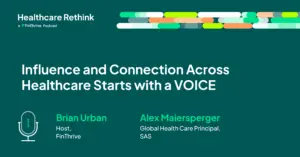 September 29, 2023
In the latest episode of the Healthcare Rethink podcast, presented by FinThrive, host Brian Urban sits down with Alex Maiersperger, the Global Principal Healthcare at SAS. Their conversation charts the role voice plays in influencing and connecting the healthcare industry. Maiersperger, who co-founded the Advancement League, shares his journey from being a healthcare optimist to […]
Read More