Will free EV ride share services drive EV sales? Probably not, say experts
The benefits of electric vehicles (EVs) are well-known: Compared to traditional diesel and petrol cars, they are less harmful to the environment. And because they contain fewer parts, they are also cheaper to maintain. It is no wonder, then, that countries around the world are pushing for the adoption of EVs. From a federal tax break to free EV ride share services, there are numerous ways to encourage residents to make the switch to EVs.
In Kissimmee, Florida, residents can now travel in EVs for free: The city has partnered with on-demand ride-hailing service Freebee to carry passengers in and around Osceola County. The best part is that Freebee only uses EVs, making the journey as green as it can be! However, experts believe that while the service will help users appreciate the many benefits of traveling in an EV, the price difference between an EV and its traditional fuel counterpart will continue to remain a deterrent for buyers.
FindTheBestCarPrice.com's Senior EV Editor Steve Birkett, who describes himself as an advocate of electric vehicles, explains why the higher price tags will continue to affect purchase decisions — even for customers who opt for the free EV ride share services.
Steve's thoughts:
"Hi, I'm Steve Birkett, Senior EV editor with FindTheBestCarPrice.com. And while I do believe that free EV ride shares are a great way to get people into electric vehicles and help them understand the various benefits, such as the quiet, smooth ride, the fact that they can go hundreds of miles on a charge, and the general feel and driving dynamics that come with an electric car, I don't think they're a great way to get more electric cars on the road, at least for those users, primarily because EVs come with a kind of price premium at the moment. So, they're in the mid-to-more-expensive tier of the car buying market, and the folks who are using them as ride shares tend to be in metropolitan areas, [and] may be a better fit for public transport e-bikes, that kind of thing, at something at a more affordable level. So good for education, but other than getting them into fleets and more EVs on the road that way, I don't think you'll find them putting more EVs on the road for personal buyers. Thanks a lot."
Latest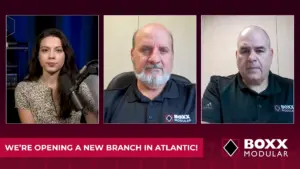 December 4, 2023
In an era where construction innovation is reshaping the industry, modular construction's growth continues to rise. In this episode of Built Modular, Boxx Modular's strategic expansion into Moncton, Atlantic Canada takes center stage. Host Gabrielle Bejarano welcomes Charles Landry and Ray Girouard to explore the implications of this venture. Bejarano, Landry, and Girouard discuss […]
Read More