Women Breaking The Glass Ceiling In Energy
In this episode of E2B, Energy to Business, Daniel Litwin sat down with three prominent women within the energy industry to discuss diversity in the workforce with a focus on career opportunities in the energy industry.
Directors Katie-Rose Herd and Maggie Caldwell, and Principal Byrony Coan, all with energy consulting business Opportune, had a vibrant discussion about how they ended up in the energy business, career opportunities and the future.
All three women found their place in the industry in very different ways from trying to avoid the industry all together to actively seeking employment within the sector. Despite the different avenues leading to their current occupation, all are clearly passionate about their work and the opportunities for women to have exciting and varied careers within the industry.
Byrony Coan spoke to the growth of energy and how it will continue to grow creating a lot more opportunities for anyone interested in working within energy.
Maggie Caldwell spoke to how the industry is "consistently challenging, always relevant, and it's always evolving into something else."
And, Katie-Rose Herd agreed that "energy impacts everyone's daily lives" and that there is no shortage of roles for potential employees.
The energy industry is so massive that it would take a book to catalog the sectors and opportunities. The need for talent is large with many companies focused on ensuring diversity in an industry that was once known for being a predominantly male-dominated field.
Whether interested in front or back office, accounting or marketing, or scientific or operational roles, there is a career path for anyone within the energy industry.
The three women also discussed industry changes, the importance of a STEM education, work-life balance, the impact of COVID, and what a woman should look for when considering a position with an energy company. This lively conversation is a must listen for anyone interested in carving out a career in the energy industry.
Latest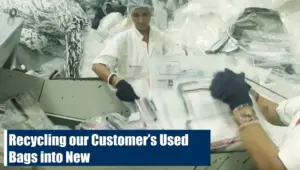 December 6, 2023
This video focuses on EcoLOK4, a groundbreaking product by CONTROLTEK that exemplifies innovation in sustainability. It highlights the process of transforming landfill waste into new deposit bags, with 90% of each bag's material being repurposed trash. This initiative not only reduces waste but also closes the sustainability loop, demonstrating CONTROLTEK's commitment to environmentally friendly […]
Read More