AGI Rain Screen System Ensures Building Protection and Durability
AGI, a leading provider of construction solutions, has developed an innovative rain screen system designed to safeguard buildings from water damage. The company's state-of-the-art technology ensures that water is kept away from the structure, mitigating the risk of moisture-related issues.
One of AGI's notable achievements is the implementation of a pressure equalized rain screen system, which allows for contraction and expansion on all sides of the panels. This feature ensures the longevity and stability of the building, even in changing weather conditions.
An essential component of AGI's rain screen system is the ACM cladding, a specialized cladding system that effectively prevents water infiltration. Unlike other cladding materials, the interior cavity of the ACM panels remains equal to the exterior, eliminating the possibility of driven infiltration.
To further combat potential water accumulation and mold issues, AGI's system incorporates strategically placed weep holes. These openings facilitate immediate drainage of any infiltrated water, preventing both damage and the formation of mold.
The rain screen system provided by AGI not only offers superior protection but also acts as a safeguard for the building owner's investment. By effectively preventing water damage, the system minimizes the risk of costly repairs and potential structural issues that can arise from prolonged exposure to moisture.
AGI's rain screen system has undergone rigorous testing and received certifications as five zero eight and five zero nine, ensuring compliance with industry standards. Additionally, the system demonstrates exceptional resistance to high wind loads, making it a reliable choice for various environmental conditions.
Remarkably, AGI proudly boasts a track record with zero moisture or wind-related warranty claims associated with their rain screen system. This remarkable achievement is a testament to the system's durability, reliability, and effectiveness in safeguarding buildings against water damage.
In conclusion, AGI's rain screen system provides comprehensive protection, durability, and peace of mind for building owners. With its advanced features, certifications, and proven performance, AGI continues to establish itself as an industry leader in the field of construction solutions.
Latest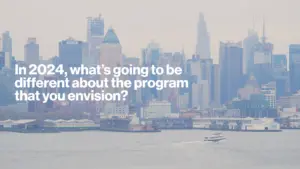 December 1, 2023
In the dynamic telecommunications landscape, Verizon's Partner Network continues to evolve, adapting to new trends and opportunities. For another segment featuring Mark Tina, VP of Indirect Channel Distribution and Channel Chief at Verizon Business Group, he explores exactly what types of significant changes and advancements the Verizon Partner Network will see in 2024. In this […]
Read More